If we issue an alert on a stock with poor fundamentals, check its technical condition before writing it off
On Monday, we issued an alert for MYGN. I was immediately asked by a subscriber how a stock with such poor fundamentals as measured by our CANTATA Evaluator (CE) could be considered for purchase. MYGN went on to gain 6%, not our best performer for the week (which was PRVD + 28%) but not to be sneezed at either.
We'll look at the chart for MYGN in a moment, but first a little bit of theory and explanation about our site.
Stan Weinstein ("The Professional Tape Reader") says the market is a discounting mechanism in which stocks sell on future fundamentals, not historic ones, and all the information you need to know is already captured by the "tape". We start by heeding this advice.
A stock will appear on our cup-with-handle and double-bottom watchlists if it satisfies certain minimum technical criteria. That is, has an RS Rank of at least 70, average daily volume of 30,000 shares and a minimum price of $6. Additionally, the stock must be in either a cup-with-handle or double-bottom chart pattern. These patterns identify stocks with improving technical condition. In other words, the chart pattern tells us that the tape is telling us that these stocks are worth watching.
Our CE metric is a combination of technical (CET) and fundamental (CEF) measures. Because our selection is only on technical criteria, It is quite possible that the technical condition will be significantly better than the fundamental condition. Consequently, you will see several stocks on our watchlists with low overall CE's but relatively high CET's. We think this contributes to our competitive advantage because we find potential outperformers earlier in their base development. Many investors who use our approach look for early entry points to begin to build a position and add to such positions at subsequent "breakouts" as they stairstep up the right side of the cup to the "real" pivot point that is within 15% of the prior high. Such stocks will often be ranked poorly by Investor's Business Daily when they are still in the base and the score will increase as they move up in price toward the final pivot. Our site gives investors an opportunity to buy in earlier! Also, since many stocks will never make it above prior highs, our site also allows investors to profit from "inside" moves. This is the philosophy underlying our BaseWatch list. Finally, for those who are only looking for home runs, our Expected Gain can be used to help narrow the field to those early candidates with the best prospects. Win-win-win.
Our breakout alerts indicate that at the time they are issued, the market has a positive view of the future earnings potential of the stock. The market makes this judgment relative to all other stocks and consequently the market can judge that the future prospects of a stock with poor historic fundamentals merits paying a higher price for the stock. When this higher price is accompanied by significantly higher volume, the assumption is that a meaningful reassessment of the relative potential of the stock has taken place. Hence, the alert is issued. Of course, these relativities are continually being reassessed which leads to the dynamics of the market (and our frequent frustration!).
At the time of the alert MYGN had a low CE of only 8.25 (out of a possible 18) but a high CET of 5.95. The market was telling us that it thinks the future prospect of MYGN is better than its historic fundamentals would suggest. A look at the chart for MYGN as it was just prior to breakout tells an interesting story.
On 11/08/04 MYGN was actually in its fifth successive cup-with-handle pattern (see chart below) as it stair-stepped up the right side of its cup The price-volume pattern was encouraging with upward price moves on strong volume and minor retreats on mostly less than average volume. The Relative Strength Rank, which compares the stock's price movement against all other stocks over the last 12 months was also reflecting improvement. Our charts as they were on 11/08/04 clearly show these features:
Chart of MYGN before breakout on 11/08/04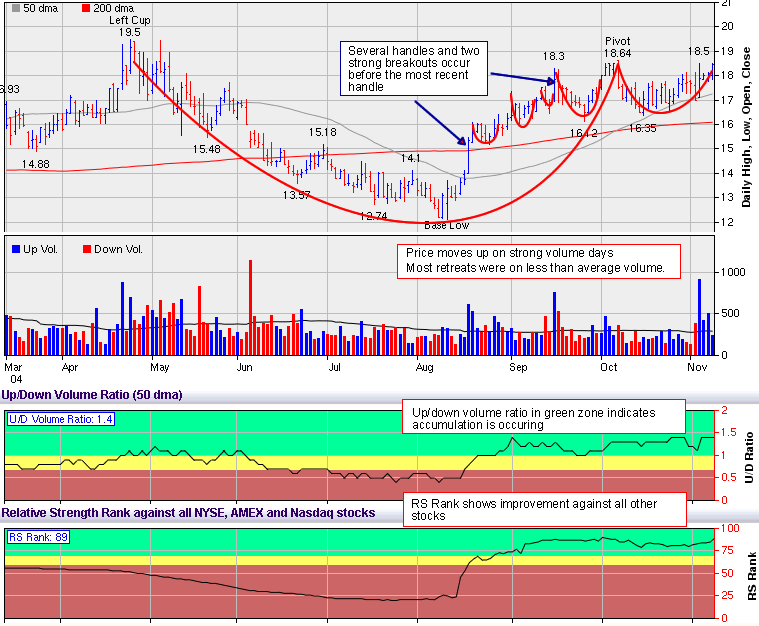 Chart of MYMG Handleand subsequent breakout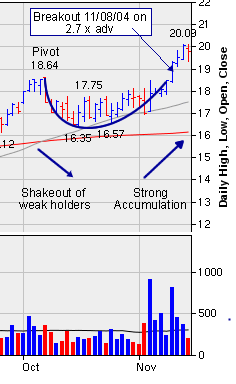 The behavior in the handle was a classic example of what we like to see. Following the formation of the pivot, the price dropped as weak holders took their profits. Volume then declined to below the daily average for several days before accumulation began again. Finally, volume picked up strongly before and on the breakout day.
Using our methodology, it was possible to buy MYGN at $16 on 08/26 and be holding it today for a gain of 31%.
MYMG is an excellent example of a stock that fell out of favor and then began the slow process of rebuilding its base before moving on to successive highs. Our 'Expected Gain' model expects that MYMG will make a gain of 60% sometime in the next months following its breakout on 11/08.