We finished last week with the possibility that the NASDAQ could suffer a distribution day on Monday which would signal the end of the recent rally. It didn't happen. The NAS was down, but on lower volume, so Monday did not qualify as a distribution day. The lower volume was most probably a result of the beginning of a shortened holiday week, but in the grand scheme, that didn't matter. From our perspective, the importance was that our market model did not signal an exit. The markets recovered on Tuesday and continued their gains to close the week higher.
The current NASDAQ chart now shows possibilities for moving higher, or a reversal. Our equivolume chart (combining price and volume on a single chart) shows the NAS has formed a head and left-shoulder and we must wait to see if the current close is but a stepping stone to a new high or a right shoulder from which a decline occurs. If the index should turn down from here, then that would be a bearish signal. On the other hand, if the index passes the intraday high of 2171.27 set on December 15, then we may conclude that the rally still has legs.

This was a shortened week so the number of breakouts was again lower. The gain for the week was significantly higher than last week and again significantly beat the market averages. For example, the average breakout, if held to week's end, made 3.04% compared to the NASDAQ's 1.19%.
Several individual stocks broke out to significant gains. Perhaps most interesting from a chart perspective was RECN which gapped up at the open on Thursday to close at a high of 8.95% above the pivot. This stock had shown considerable accumulation while in the handle in the two days prior to the breakout and could have been bought from our cup-with-handle watchlist by an astute chart watcher for considerable gains prior to the breakout. This is an example of where one can 'cheat' and buy the stock prior to the breakout because the volume is sufficiently strong.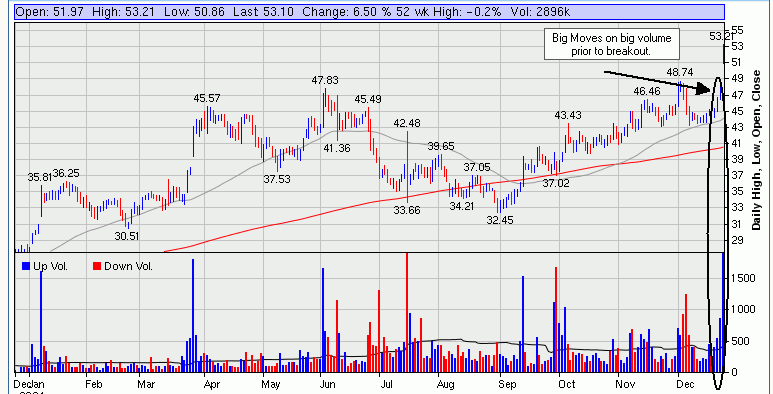 The sectors providing the most breakouts this week were Business Services tied with Telecomm with three confirmed breakouts each.
I would like to take this opportunity to wish all our subscribers and newsletter readers the very best wishes for a safe and happy Christmas holiday season.