Help with Searching for Shorting Candidates
A number of subscribers have asked if there is a way to use breakoutwatch.com to identify shorting candidates. We had to answer that although we could come up with a few ideas, they wouldn't meet the high standards set for the site. We do think it is very desirable to offer our subscribers a shorting watchlist in this unpredictable market, so we are giving top priority to adapting our chart pattern recognition tools to achieve this. Stay tuned for further news.
One subscriber saw the behavior of GLBC on Thursday, which made an intraday gain of 24.8% above the pivot before closing for a gain of 10.41% offering a potential short play gain of 14%, and asked "is it a good idea to short breakouts and cover them before the close". Given that it seems that many breakouts pull back from their intraday high before the close, on the face of it, this may seem like a good idea but there are a number of problems with this approach.
Firstly, how do you know when the intraday high has been reached? Secondly, assuming you are able to pick the high approximately, would your expected gain if you covered the position at the market close justify the risks involved with short selling. The following table analyses 3255 breakouts and shows that in nearly 92% of cases, the pullback is less than 5%.:
Analysis of Intraday Pullbacks on Breakout Attempt

Intraday Pullback %

No. of Breakouts

% of Breakout Attempts

>25

1


0.03

>20

2

0.06

>15

4

0.12

>10

41

1.26

>5

217

6.67

0 - 5

2990

91.86

Total

3255

100
The fundamental problem is that breakouts are, by definition, strong stocks, so attempting to short them is like standing in front of an express train - you've got to jump quickly to get out of the way or be killed.
Where did that stock go?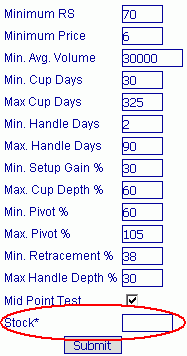 One of the most common questions we get is "Why did stock XXXX disappear from the list?".
Usually there is a simple explanation, but its often hard for a subscriber not intimately acquainted with the details of our watchlist criteria to understand why without asking the question.
There is an easy way for you to find out why however, provided it was a cup-with-handle stock and you notice the stock has disappeared on the day after it last appeared. Just go to the Mine for Candidates > Chart Selector page and enter the stock ticker in the Stock field as shown at the right. Leave all the other parameters unchanged, because those are the same as used by our cup-with-handle algorithm and click the submit symbol. The algorithm will step through its various stages and tell you why the stock did not meet the criteria for the watchlist.
One of the most common reasons for a stock to disappear from a watchlist is that it set a new pivot point and must now form a new handle before it reappears. If a stock did set a new pivot on less than 150% of average daily volume, then its possible that an alert was never issued and so the explanation for its disappearance is not immediately obvious. In this case, the Chart Selector will tell you that the stock does not have a valid pivot point, because the handle is not yet at least 2 days long.
The stock has not disappeared from view completely, however. It will still be listed on the BaseWatch list, which contains all stocks forming a cup-like base which do not qualify for the cup-with-handle or double-bottom watchlist.