Getting the Most out of Industry Analysis
Our Industry Analysis service has disappointed some subscribers who are familiar with, and rely on, the industry rankings published by Investor's Business Daily (IBD). We think we have sound reasons for ranking industries based on technical strength in the way we do (which are described on our Industry Methodology page), but we also want to serve as broad a group of subscribers as possible, so we are significantly enhancing this area of our service to provide powerful new analytical features at no extra charge to subscribers.
The new Industry Analysis screen will allow ranking of industries by each of four different criteria: Technical strength, Fundamental strength, Combined Technical and Fundamental strength (as measured by our CANTATA Evaluator (CE) metric), and by Price strength. This new service will be available after the daily update on Monday, January 24.
The Price strength ranking method is very similar to that used by IBD and produces comparable, although not exactly similar, results. It looks at weighted ratios of average price movements over the last 3 and 6 month periods to develop a 'score' for each industry which is then used to rank the industries from 1 to 192. While the resulting rankings are similar to IBD's, they are not identical for several reasons:
IBD's industry groupings are proprietary so we cannot reproduce them.
IBD's database of stocks is not identical to our own
IBD's price ranking formula is a proprietary 'black box' not open to evaluation, while ours is not and will be published on the methodolgy page when we release the new service.
The new service is provided through a simple, but powerful display.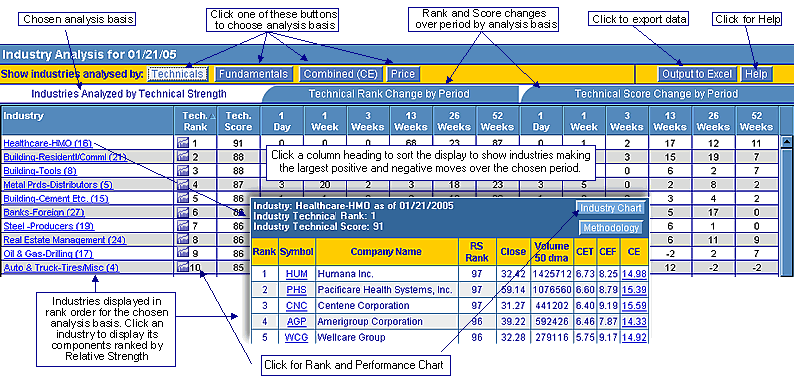 Here's some examples of how to use this:
Click the 'Price' button to display rankings by the same criteria as IBD
Click the '1 Day' column heading to see industries making the biggest negative moves (sort in ascending order)
Click the '1 Day' column again to see industries making the biggest positive moves (sort in descending order)
Perhaps of most value is that these industry rankings are updated daily, not weekly.
For subscribers who are looking for the leading stocks in the leading industry groups (or the inverse!) measured on technical, fundamental, combined or purely price performance grounds, we think this service offers unparalled value in versatility, power and useability.