Using Industry Analysis to find improving industries and stocks offering a current entry point
We are almost ready to finalize our new Industry Analysis tool and take it out of beta test, so this week we will look at how to use it to find improving industries and stocks within those industries that offer suitable entry points.
NB: This tutorial was prepared based on data as of the market close on Thursday, 02/10/05, and may not represent what you will see when you read this.
Firstly, lets look at the chart of our top ranked industry on a technical basis, Oil & Gas Drilling. We see that it has been relatively high in our rankings since September of last year. Since achieving a high ranking then, it went on to gain 50% in value confirming the adage that one should buy the top performing stocks in the top performing industries. Looking at the price chart (derived from the average price of stocks in the industry) and the rankings chart we can see that there were two signals that this industry was improving and was ready to buy. These were when the industry broke through support in June and then again at the beginning of September. Because these buy signals were accompanied by a significant change in industry rank, we can use the change in rank columns on our industry analysis to find industries that are improving.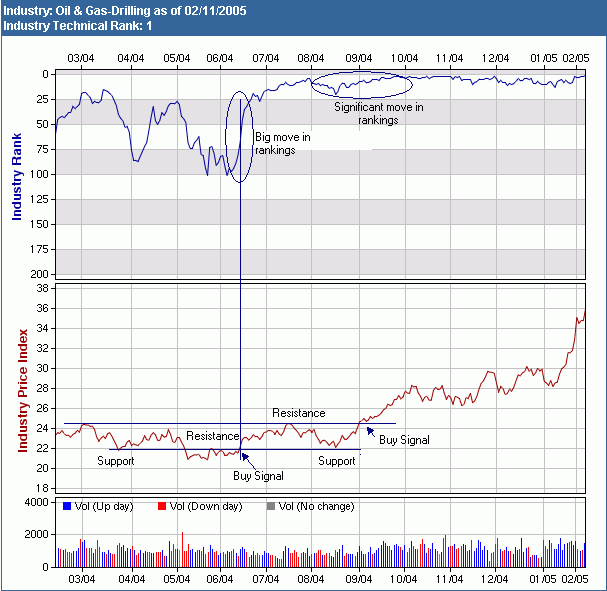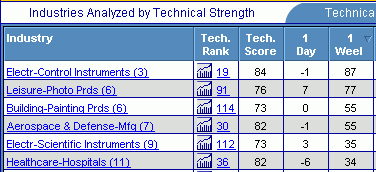 We do this by sorting the change in rank columns so we bring the industries with the biggest change in rank to the top. If we do this on the one week change column in the current list we get a new list with the stocks at the top shown on the right.
We now look at the charts of these industries looking for entry signals. The second on the list is Leisure-Photo Products whose chart shows that a resistance line was recently breached.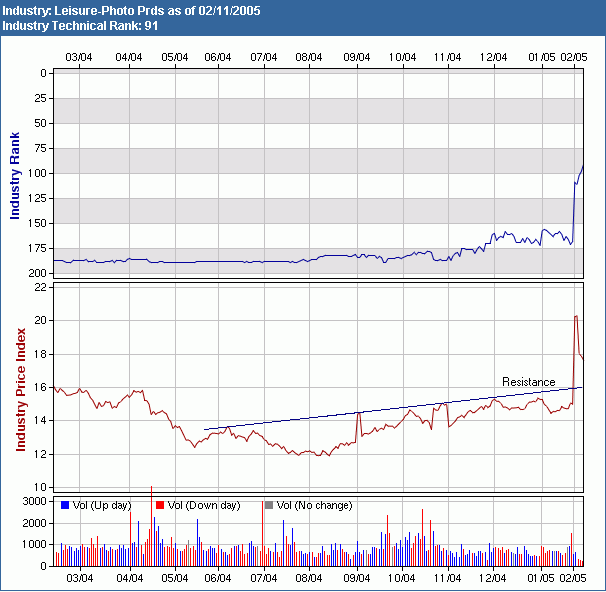 Now we have found an industry making a significant move, we would like to know if there are any stocks in the industry offering a suitable entry point. Clicking the industry name in our Industry Analysis list will bring up the list of stocks in the industry. If any of the stocks are on our current watchlists, that will be indicated in the 'list' column (new feature this week). For Leisure-Photo Products, the list shows that Eastman Kodak is currently in a cup-with-handle formation. Clicking the symbol will display an annotated chart.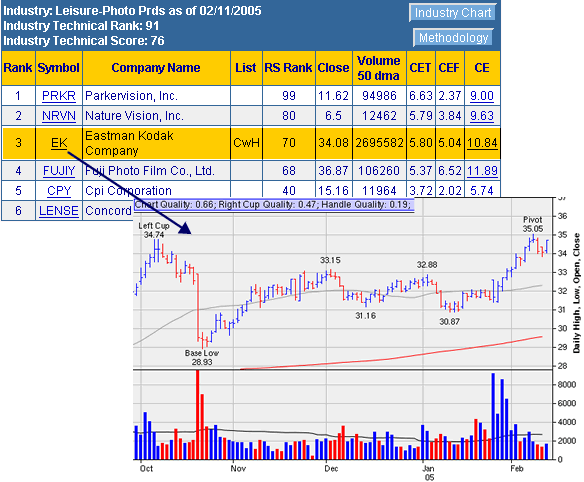 Should EK break out, then the improving relative strength of the Leisure-Photo Products industry may carry it to new highs.
Disclaimer: We are not recommending EK as a suitable investment. We are showing how to use a combination of our industry analysis tools, watchlists and charts to find stocks that may offer suitable investment opportunities.