For the second week in succession the DJI closed at a new high for the year, and this time at its highest level in over 3 years. The S&P 500 also closed higher at its high for the year. Overall the Dow and the S&P 500 gained 0.9% for the week, while the NASDAQ gained only 0.25%.
While the outlook for the large cap companies represented by the DJI and S&P 500 looks quite positive, readers of this newsletter for the last few weeks will be aware of our pessimism about the prospects for the NASDAQ. This index has consistently failed to overcome its 50 day moving average this year. On Wednesday it again touched the 50 dma level but closed lower on higher volume to register a distribution day. This brought up the 5th distribution day in 15 sessions and caused our Market Model to issue an 'exit' signal. The following chart shows clearly the resistance represented by the 50 day moving average and the distribution days suffered by the index since the start of the year. There have been 13 distribution days since January 3 but only 7 accumulation days, which clearly illustrates the selling pressure that the index has been under.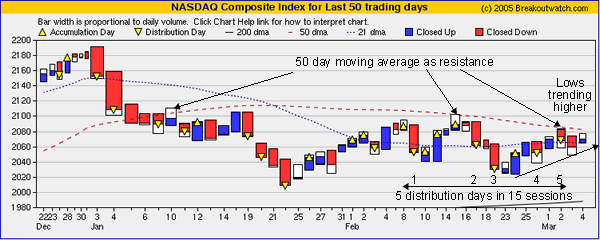 The index did gain 0.6% on Friday, but on less than average volume, so this did not represent a strong reversal of the overall distributive trend. Nevertheless, the recent lows are trending higher and if we see a follow through day in the next 3 to 10 sessions with a sustained rise above the 50 dma level, then the outlook for the NASDAQ will be more positive.
The number of successful breakouts rose to 47 this week. While the average gains were modest, they comfortably outpaced the indexes. IVN was the best performer, breaking out on Monday from a double-bottom with a 3-day handle and gaining 19.7% above its pivot by week's end.
Oil & Gas - Drilling continued to top the best performing industries list and the Oil and Gas sector also contributed the most breakouts with 5 (10%) of the overall count.
We started sending out 'Breakdown Alerts' this week. They are not sent automatically, as short sales are not everyone's cup of double latte. To receive them, please request them on the Account Management page. A breakdown alert was issued on CME which dropped 10% on Wednesday on 5 times average volume.