Search our Database to Find Quality Stocks
Our name may lead you to believe our service is limited to watchlists of stocks in specific patterns ready to breakout (CwH, Flat Bottom, Double Bottom) or break down (ShortsaleWatch and Flat Bottom). This is not so, we also offer the ability to find stocks building their bases (BaseWatch), stocks in top performing or rising industry groups (Industry Analysis) or even search our entire database (all common US stocks) for stocks meeting any range of metrics the CANTATA investor may want. Previous newsletters have given pointers on using BaseWatch and Industry Analysis and today we focus on our Database Search ability.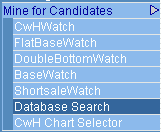 The Database Search is accessed from the Mine for Candidates Menu option.
There are two ways to search the database. You can either select one of our 'Top 100' lists or build a more selective set of criteria.
Select a Top 100 List
To select one of the top 100 lists, simply select one and click the Search Database button.

These searches will return the 100 stocks with the highest technical score, fundamental score or CANTATA Evaluator (CE) score from our database. As an example, here are the top 5 stocks from our current Top 100 CE search.

The display will open with the technical data displayed. Clicking the 'Show Industry Analysis' or 'Show Fundamentals' will buttons will show that data also. Click a 'Hide' button to reduce the display width to fit within your monitor.
More Selective Search
To be more selective, first choose a group of stocks to search on:

Then choose a set of selection criteria, you can search by Zone, Technical Criteria, Fundamental Criteria, or any combination thereof.
For example, most breakouts lately have been coming from stocks in zone 4-3 (that means top technicals and moderately strong fundamentals). To select stocks in Zone 4-3 just click the zone diagram as shown: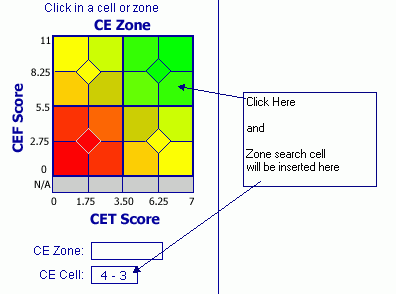 Finally, choose a sort criterion and click the database search button. The search will return the top 50 stocks meeting the search criteria.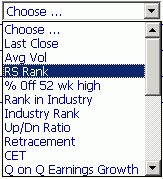 Here are the top 5 that the search would display today.

This brief overview has only scratched the surface of the power of our Database Search service. The database can also be searched by the individual technical and or fundamental metrics used in our CANTATA Evaluator tool. In summary, our Database Search gives unequaled power in selecting stocks for the CANTATA investor.