This week we are introducing an innovation which allows you to define a Personal Watch List (PWL) and only receive alerts on stocks on that list, if you choose to do so. This is being made available initially only on CwHWatch but will be extended to our other watchlists after a trial period in which we have received subscriber feed back.
To accommodate this innovation we have restructured the CwHWatch display as shown here. The new areas are indicated by numbers 1 - 4 and are described below.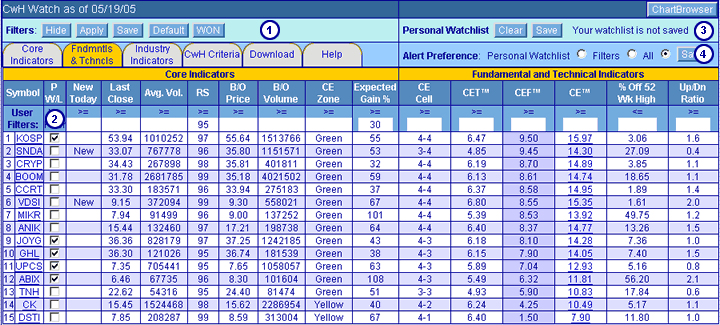 1. These are the filter controls that you are already familiar with. They work as previously but have been relocated to accommodate the other new features.
2. This new column allows you to select individual stocks in the display.
3. These buttons allow you to clear or save your Personal Watchlist.
4. This area allows you to define how you want alerts to be sent to you. You can receive alerts limited to stocks on your PWL, limited to stocks that meet your filter criteria, or all stocks.
Creating a Personal Watch List
To create a PWL, check the box in the PW/L column next to a stock that you want to place on your PWL. The Personal Watchlist area of the display will show that you have modified your PWL but that it is not saved.


After selecting all the stocks you want on your PWL, click the Save button and the Personal Watch area will respond that the PWL was saved.


A stock can be removed from the list by clicking a checked box, or the whole list can be cleared by clicking the clear button.
Once a stock is added to your PWL it will stay there until it either moves off the list or you remove it from your PWL.
Setting Alert Preferences
Alert Preferences apply to email alerts and allow you to receive all alerts, only alerts that meet your filter criteria, or only alerts that correspond to stocks on your Personal Watch List (PWL).


Select the option you prefer and click save.
These new features are available now and will apply to email alerts issued beginning Monday, May 23, 2005. Your existing filters and alert preferences will be unchanged if you do not take advantage of the new PWL feature.
We have also modified the behavior of the display so that the Fundamental and Technical Indicators appear where the Help information used to be. Clicking the 'Help; tab now brings the help page up in a pop-up.
---
Get a 14 day Trial of our premium 'Platinum' service for just $9.95 and if you subsequently subscribe to any subscription level we will credit your $9.95 to your subscription.
14 Day Platinum Trial
(you will need to allow pop-ups from breakoutwatch.com to see the subscription form)