We are pleased to be able to present the results of our filter competition and hope it will be helpful to all of you. One person, a Gold subscriber, produced a set of filters that produced the best result in both categories, and gained himself a 6 month Platinum subscription.
The competition was based on using our backtest feature to select the best set of filters in two categories:
Best average breakout gain at close on the day of breakout
Best average maximum gain since breakout.
An additional requirement was that the filters had to select at least 60 breakouts - an average of approximately 1 a day over the 3 month backtest period. Several of you chose to keep your filters at a more restrictive level, rather than enter the competition, so we are also presenting the filter set that gave the best maximum gain since breakout overall.
Best Average breakout gain at close on the day of breakout
and
Best Average Maximum Gain Since Breakout
These were the winning filters in both categories:

The result is a 47% improvement in average gain on breakout day, and a whopping 63% improvement in average maximum gain following breakout.

Best Maximum Gain since Breakout Overall (hors competition)
If you are happy to be more selective, then you can achieve better results as the following backtest results show. Although highly selective and giving few breakouts, these filters beat the average gain after breakout by 94%!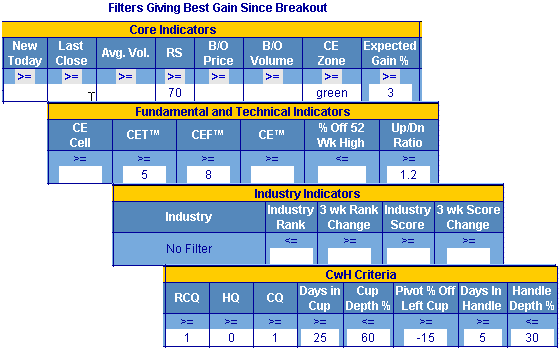 Get a 14 day Trial of our premium 'Platinum' service for just $9.95 and if you subsequently subscribe to any subscription level we will credit your $9.95 to your subscription.
14 Day Platinum Trial
(you will need to allow pop-ups from breakoutwatch.com to see the subscription form)
---