Open House on Breakout Alerts
We are introducing a new alert monitoring service which will go into beta test on Monday, August 15. This service is free to all subscribers and guests until August31 and can be accessed from our Take Action - Alerts menu choice at breakoutwatch.com. Read more in this weeks Top Tip below.
Market Summary
The DJI rebounded from its 50 day moving average level on Monday and went on to finish the week with a gain of 0.4%. While the long term trend is to move higher, the index has recently met resistance at 10700 and continues to consolidate below that level. With oil prices continuing to rise, it seems that the market has decided that for now there is a real limit to growth of large cap stocks.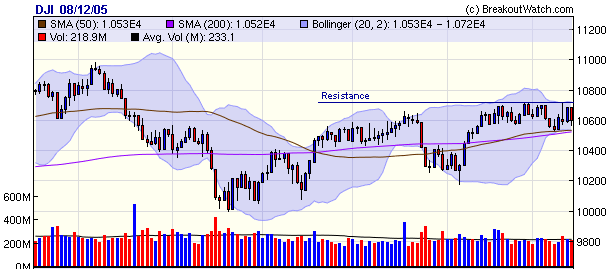 The bigger picture for the S&P 500 is more bullish with a clear rising channel establishing a positive upwards trend. However, over the last eight days a bearish triangle has appeared and resistance was established on Wednesday this week with a breakout attempt being rebuffed at 1240.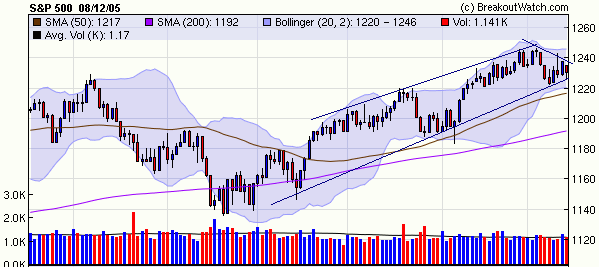 The NASDAQ composite is in retreat from its 2219 high on August 3 but found support on Friday, after earnings warnings from DELL, at 2150. That is also the edge of the lower Bollinger Band and a recovery from here to 2200 is possible. A violation of support would probably mean a retreat to the 50 day moving average level at around 2120.
There were 30 breakouts this week, down from the recent average of 41 over the last 13 weeks. Several made double digit gains on breakout from cup-with-handle bases, such as MTZ (Mastec Inc) that rose 19%, PQUE (Petroquest Energy, Inc.) that rose 15.8%, KNOT (The Knot Inc.) with a gain of 13.1% and LMIA (LMI Aerospace) which gained 11.36%.
Oil and Gas stocks continued to top the industry performance charts, as they have done for the last 26 weeks. Real Estate Development was the most improved industry group rising 9 steps on our industry rankings to 21st position out of 192 groups.
Get a 14 day Trial of our premium 'Platinum' service for just $9.95 and if you subsequently subscribe to any subscription level we will credit your $9.95 to your subscription.
14 Day Platinum Trial
(you will need to allow pop-ups from breakoutwatch.com to see the subscription form)