New Alert Monitor Enhancements
Thank you to all of you who pointed out a few bugs in the new Alert Monitor and made suggestions for enhancements. Please keep them coming.
The bugs have been fixed (although there could still be some remaining, or new ones introduced by the enhancements) and most of the enhancements included now. The principle enhancements are:
ability to toggle the size of the chart between 'medium' (600px wide) and 'large' (800px wide).
choose a time interval for the display between 1 and 30 minutes. The one minute chart is displayed as a line chart while larger intervals are shown as a candlestick chart. Examples are shown below.
Bollinger Bands (20 min, 2 SD) are shown on 1 minute charts but not on charts for longer time intervals.
addition of a 'BoP + 5%' line to show the usual limit price on buying breakouts. (Only shows when the price is very close to the BoP or has passed it).
Here is an example of a 1 minute chart from yesterday at 2:30 pm for CCK. The chart shows the 'closing price' at the end of the 1 minute interval. (Note, CCK never actually crossed the BoP+5% line yesterday, the data was modified so that the BoP+5% line would be shown for demonstration purposes).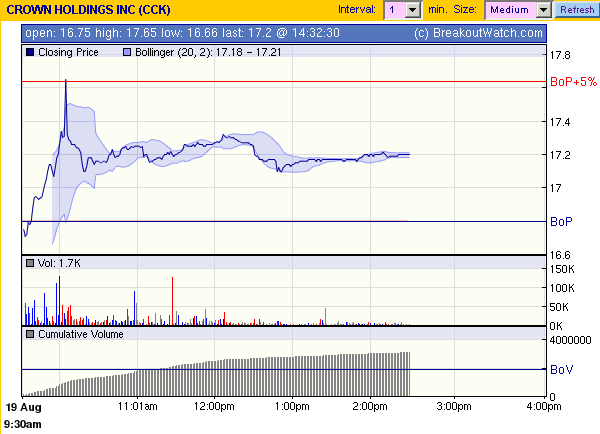 Here is a 15 minute for the same symbol at the same time. Note that the volume bars show whether accumulation (price rose) or distribution (price fell) occurred over the interval.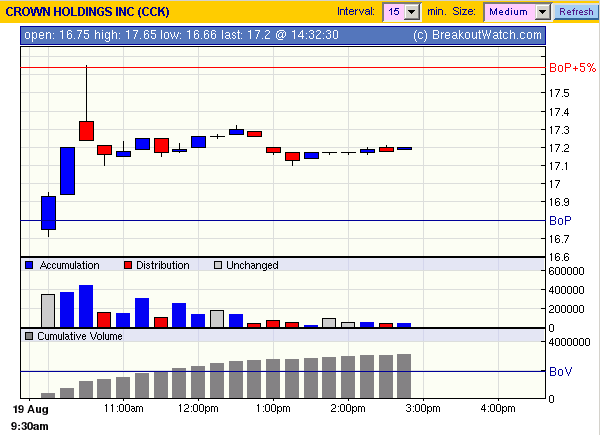 Investment Advisors Using our Service
If you are interested in basing part of your investment strategy on our service, but do not have the time, experience or confidence to do so on your own account, then consider using an investment advisor.
TradeRight Securities, located in a suburb of Chicago, is a full services investment management company and broker/dealer. They have been a subscriber, and user, of BreakoutWatch.com for some time now. They practice CANTATA and use Breakoutwatch.com as a "research analyst".
They also provide:
• A hands-on approach through personalized service
• On-going communication, guidance, and consultation
• An environment that working together with their clients will help them reach their financial goals
You can learn more about TradeRight Securities at: www.traderightsecurities.com. If you're interested in speaking to a representative, simply call them toll-free at 1-800-308-3938 or e-mail gdragel@traderightsecurities.com.

Get a 14 day Trial of our premium 'Platinum' service for just $9.95 and if you subsequently subscribe to any subscription level we will credit your $9.95 to your subscription.
14 Day Platinum Trial
(you will need to allow pop-ups from breakoutwatch.com to see the subscription form)
---