The alert monitor remains on beta test and accessible to all subscribers and guests until August 31 after which it will become available for $9.95 per month to all subscribers. A subscription form will be available from the Alert Monitor page from August 31. The value added by the alert monitor over our other services is:
Email alerts are issued only at a point in time when the breakout alert conditions are met. The Alert Monitor continuously updates price and volume after an alert so you can see if the breakout conditions are still met
Stocks appear on the monitor as soon as their breakout price is met even though the volume projection is below the necessary breakout volume. This allows you to anticipate breakout alerts, especially when combined with the intraday cumulative volume chart accessible from the monitor.
Stocks automatically appear on the alert monitor when their price meets the BoP target. To achieve the same result with your own monitoring software, you would have to pre-load watchlist stocks into your monitor.
The intraday chart shows price and volume trends for stocks on the alert monitor. This chart can be particularly useful for identifying trends when the display interval is set to 5 minutes or longer.
Historical charts accessed from the monitor include the day's real-time quote data.
A Short Discussion on Bollinger Bands
Our Technical Analysis (T/A) charts allow you to select Bollinger Bands (BBs) or Donchian Channels as an envelope around the (default) candlestick price chart. After they were introduced, it was suggested on the Breakoutwatch Forum that we develop a sell signal algorithm that would issue a sell alert when the upper channel was violated.
After doing further research, it is clear that this is not the purpose of the bands although they can be used in this way when combined with another non-correlated indicator. To learn more about BBs and trading methods using them, visit bollingerbands.com. The site offers 15 rules for the use of the bands, but the important ones which relate to their unsuitability as a sell indicator are as follows:
1. Bollinger Bands provide a relative definition of high and low.
7. Price can, and does, walk up the upper Bollinger Band and down the lower Bollinger Band.
8. Closes outside the Bollinger Bands can be continuation signals, not reversal signals
15. Finally, tags of the bands are just that, tags not signals. A tag of the upper Bollinger Band is NOT in-and-of-itself a sell signal. A tag of the lower Bollinger Band is NOT in-and-of-itself a buy signal.
In fact, Bollinger says "The greatest myth about Bollinger Bands is that you are supposed to sell at the upper band and buy at the lower band".
The simplest buy/sell rule based on Bollinger Bands is to buy when the price crosses the 20 day moving average to the upside and to sell when it crosses it to the downside. Here's a simple example as applied to the NASDAQ Composite: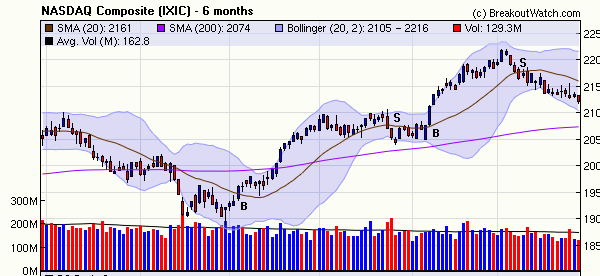 We will look further at sell rules in a future newsletter edition.
Investment Advisors Using our Service
If you are interested in basing part of your investment strategy on our service, but do not have the time, experience or confidence to do so on your own account, then consider using an investment advisor.
TradeRight Securities, located in a suburb of Chicago, is a full services investment management company and broker/dealer. They have been a subscriber, and user, of BreakoutWatch.com for some time now. They practice CANTATA and use Breakoutwatch.com as a "research analyst".
They also provide:
• A hands-on approach through personalized service
• On-going communication, guidance, and consultation
• An environment that working together with their clients will help them reach their financial goals
You can learn more about TradeRight Securities at: www.traderightsecurities.com. If you're interested in speaking to a representative, simply call them toll-free at 1-800-308-3938 or e-mail gdragel@traderightsecurities.com.

Get a 14 day Trial of our premium 'Platinum' service for just $9.95 and if you subsequently subscribe to any subscription level we will credit your $9.95 to your subscription.
14 Day Platinum Trial
(you will need to allow pop-ups from breakoutwatch.com to see the subscription form)
---