New HQ Metric Improves Ability to Recognize Breakout Attempts
Please raise your hand if you would like to know how to recognize stocks with a higher probability of making a breakout attempt. Did I see all hands in the air? Yes, I think I did
Now, raise your hand if you would like to know which breakout attempts will be successful and make the biggest gains. Ah ha, I see all hands go up!
Over the last few months we've been searching for the answers to these questions with the help of a subscriber known to readers of the Breakoutwatch Forum as DCPC (first name David). We first reported on the preliminary work in our newsletter of 7/30/05 and we have some exciting results to report now. The work has led to the development of several new metrics which in combination provide a powerful new set of filters to select breakouts that will go on to give average returns of well over 20%. We will be introducing these new metrics gradually over the next several weeks as we make changes to the site to calculate, display and filter these new metrics and will explain the new metrics in this newsletter as we introduce them
This week we will look at a new Handle Quality (HQ) metric which improves the chances of selecting breakout attempts.
Subscribers and regular readers will recall that we added an enhancement to our HQ metric in early July. We continued to work on improvements to that metric and now have a new version which significantly improves our ability to select stocks that will make a breakout attempt. This new HQ metric goes into production today and you will need to adjust your HQ filters to take advantage of it.
The new HQ metric measures the cumulative daily accumulation or distribution multiplied by the daily price change and weighted by the position in the handle so more recent days get higher weight. The result is a metric that very successfully increases the chances of selecting stocks that will make a breakout attempt on the next day. The following graph shows that the chance of making a breakout attempt rises to almost 50 out of a 100 as the new HQ value increases.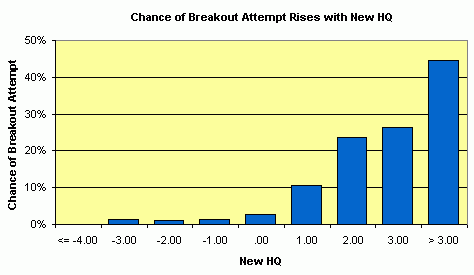 To develop this new HQ we looked at all stocks that had been on our CwHwatch list this year through to the end of July. There were 1664 breakout attempts out of 26184 total entries on the list.
Using the new HQ we can significantly improve our chances of selecting stocks from our watchlist which will attempt a breakout on the next day. In the coming weeks we will look at additional metrics that when used in combination with new HQ improve our chances of selecting confirmed breakouts which go on to make significant gains. Even on its own, however, the new HQ can be used to significantly improve the returns achievable on the first day of breakout, as well as in the longer term. As an example, here is a backtest run as of Thursday, 10/20/05, using a new HQ filter level of >=1 with no other filters active.

Note that there were no failures after breakout and the improvement in gains on the day of breakout close to 20% while the long term improvement in gains was 12%. Consider also that the backtest only runs over the last 13 weeks and the true longer terms gains will be significantly higher.
To discuss these results, please post your questions or comments to the Breakoutwatch Forum on the site.
Investment Advisors Using our Service
If you are interested in basing part of your investment strategy on our service, but do not have the time, experience or confidence to do so on your own account, then consider using an investment advisor.
TradeRight Securities, located in a suburb of Chicago, is a full services investment management company and broker/dealer. They have been a subscriber, and user, of BreakoutWatch.com for some time now. They practice CANTATA and use Breakoutwatch.com as a "research analyst".
They also provide:
• A hands-on approach through personalized service
• On-going communication, guidance, and consultation
• An environment that working together with their clients will help them reach their financial goals
You can learn more about TradeRight Securities at: www.traderightsecurities.com. If you're interested in speaking to a representative, simply call them toll-free at 1-800-308-3938 or e-mail gdragel@traderightsecurities.com.
Get a 14 day Trial of our premium 'Platinum' service for just $9.95 and if you subsequently subscribe to any subscription level we will credit your $9.95 to your subscription.
14 Day Platinum Trial
(you will need to allow pop-ups from breakoutwatch.com to see the subscription form)
---