Our Sell Assistant, which is part of our new TradeWatch service, can be used to obtain a sell signal on any stock, not just those on our TradeWatch lists. You can also ask for an alert to be sent when our Sell Assistant issues a sell alert for any stock. The Sell Assistant uses our Sell Model which is based on three technical indicators which must be in agreement before a sell signal is issued.
When we first discussed our Sell Model (12/03/05), we described the model as relying on three metrics: Bollinger Band Bands, Parabolic Stop and Reverse and the trend of the On Balance Volume (OBV) indicator. We found that the model gave extremely good results (of the order of 15%) when backtested on our TradeWatch list for all of 2005. When we did further testing however, we found that the model worked less well when used to determine today if the stock should be sold tomorrow. The reason for this was that the OBV trend was calculated after first smoothing the OBV. The smoothing algorithm we used knew the values of the OBV both before and after any point in time but when the algorithm was applied without having the benefit of those future observations, which of course is the real world situation, it gave disappointing results.
Instead of using the OBV trend as a confirmation signal, we now use the Price-Volume Oscillator. In a significant decline, the oscillator will be positive and so we look for a positive value in the oscillator to confirm the signal from the BB Bands and the PSAR. Here is an example of how the model worked for CVO, a stock on our Best Return list, where it issued a sell signal on 12/30/05 after a gain of 47.8%. If only the model had a crystal ball and knew what the 3rd of January would bring!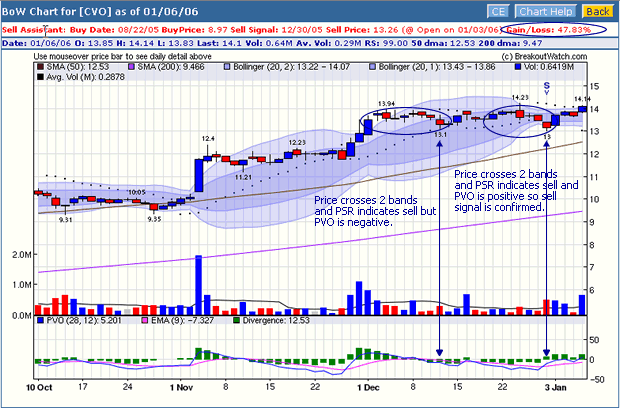 For all the stocks on our best return list for 2005 the sell model would have given an average return of 7.3%. This assumes that the stock was sold at the open on the day after the sell signal was issued and is therefore ea very realistic simulation. This is a very good return when you consider that the major indexes were flat for 2005. The Sell Model does not use a sell stop of 8%, but instead relies purely on the combination of the BB, PSAR and PVO to give a sell signal. If one had used a sell stop of 8% below the buy price and sold the day after the stop was triggered, then the return would have been 5.1%. In other words, the sell model gave a 43% better return than using an 8% sell stop. You can see the data behind this analysis in this excel spreadsheet.
The Sell Model will undergo further testing and refinement in the coming weeks. Your support of breakoutwatch.com is greatly appreciated so this research can continue.
Investment Advisors Using our Service
If you would like to be listed here, please contact us. As a service to those who support us, there is no additional charge to be listed here.
TradeRight Securities, located in a suburb of Chicago, is a full services investment management company and broker/dealer. They have been a subscriber, and user, of BreakoutWatch.com for some time now. They practice CANTATA and use Breakoutwatch.com as a "research analyst". You can learn more about TradeRight Securities at: www.traderightsecurities.com. If you're interested in speaking to a representative, simply call them toll-free at 1-800-308-3938 or e-mail gdragel@traderightsecurities.com.
Get a 14 day Trial of our premium 'Platinum' service for just $9.95 and if you subsequently subscribe to any subscription level we will credit your $9.95 to your subscription.
14 Day Platinum Trial
(you will need to allow pop-ups from breakoutwatch.com to see the subscription form)
---