Should You Sell an Unconfirmed Breakout?
Each day we send out alerts on stocks on our watchlists that are attempting to breakout. A breakout attempt occurs when a stock meets or exceeds its pivot price and the projected daily volume is at least 1.5 times average daily volume (ADV). At the end of the day we report all breakout attempts that were confirmed, that is, they stayed above their pivot price and volume was at least 1.5 times ADV. The question arises as to what to do when you have purchased a breakout attempt but it was not confirmed at the end of the day.
Often a stock will continue to perform well, even though a breakout was not confirmed. An example is ATLS which attempted to break out from a cup-with-handle pattern on November 11, 2005. The breakout was not confirmed but ATLS went on to gain 40%. A review of the chart shows what happened: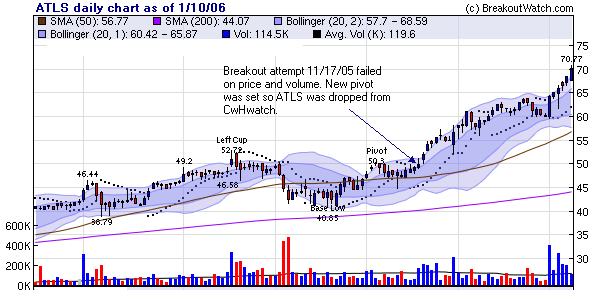 Because a new pivot was set while attempting the breakout on 11/17 the stock was dropped from the CwH watchlist. If it had then formed a new handle then it would have reappeared on the list. In this case, however it hardly paused for breath before making a substantial run.
The question then arises, if you had bought ATLS on 11/17 because you received our email alert, should you have held on or sold it when we reported that the breakout had failed?
A breakout can be unconfirmed because it fails on price (FP), meaning that it does not close at or above its pivot price, fail on volume (FV), meaning that the volume was not at least 1.5 times its ADV, or fail on both. We looked at all stocks that attempted to breakout but failed since April 2003. We classified them as a success if they went on to gain at least 5% over their pivot price and a failure if they fell to 8% or more below their pivot price. Here's what we found.
| Unconfirmed Reason | Count | % Successes | % Failures |
| --- | --- | --- | --- |
| FB | 1070 | 57 | 37 |
| FV | 1214 | 71 | 24 |
| FP | 896 | 54 | 42 |
| All | 3180 | 62 | 33 |
So in all cases, the odds are in your favor that the stock will still go on to make at least a 5% gain, with a failure on volume presenting the best opportunity.
Investment Advisors Using our Service
If you would like to be listed here, please contact us. As a service to those who support us, there is no additional charge to be listed here.
TradeRight Securities, located in a suburb of Chicago, is a full services investment management company and broker/dealer. They have been a subscriber, and user, of BreakoutWatch.com for some time now. They practice CANTATA and use Breakoutwatch.com as a "research analyst". You can learn more about TradeRight Securities at: www.traderightsecurities.com. If you're interested in speaking to a representative, simply call them toll-free at 1-800-308-3938 or e-mail gdragel@traderightsecurities.com.
Get a 14 day Trial of our premium 'Platinum' service for just $9.95 and if you subsequently subscribe to any subscription level we will credit your $9.95 to your subscription.
14 Day Platinum Trial
(you will need to allow pop-ups from breakoutwatch.com to see the subscription form)
---