One of the most common questions we get concerns subscribers not getting access to the services they subscribed to. In almost all cases, this is because they are not logged into the site, or have become logged out for some reason. This week we will explain how access to the site works.
Getting Logged In
There are two ways for subscribers to login to the site:
By clicking the button on the home page which will bring up a login form like this: If you check the 'Remember my login' box you will not have to login using this login method again as long as you are on the same computer or have not cleared your cookies.
By clicking an item on the home page menu bar. If you set your login to be remembered, then you will be logged-in automatically. If your login isn't remembered, then you will be logged in as guest but still taken to your menu choice. Note that logging-in by clicking a menu choice only works from the home page.
To see that you are logged in correctly, look at the blue status bar at the bottom of the page, it will tell you your login status:

Staying Logged In
Once you are logged in, the site sets up a 'session' for you. As long as your session is active, the site knows who you are and what your subscription level is. The session is kept active by the blue status bar which refreshes every 60 seconds and lets the site know that you are still connected. This works even if you have the browser minimized and are doing other things on your computer. If you close the browser window, or open up another site in the same window, then your session will be deactivated because the blue status bar cannot refresh.
Another function of the blue status bar is that it allows us to send you messages about when the daily site update is starting and has finished. If you don't promptly respond to those messages, the status bar can't refresh and you will be logged out.
You can stay logged in to breakoutwatch and visit other sites by opening another browser window. In tabbed browsers, such as Firefox, this is easy by typing ctrl-T on the keyboard. In IE you need to open a new window from the File menu.
We only allow one session to be active at one time, so if you login from a different computer, or open a new session from a different browser or browser window, your first session will be logged out.
What to do if you are not logged in correctly
Usually the first indication of this is that you are told your subscription level isn't appropriate to the service you are trying to access. Check the blue status bar and it will probably show this:

In that case you can click the home page link and login again as described above.
If that doesn't work, close your browser and start again.
If it still doesn't work and you tried to login by clicking the menu bar on the home page, then maybe your 'remember' cookie has been removed or you changed your password. In that case, click the home page login button and then click the click here link.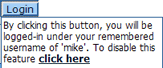 This will remove the cookie and you can then login by method 1.
Get a 14 day Trial of our premium 'Platinum' service for just $9.95 and if you subsequently subscribe to any subscription level we will credit your $9.95 to your subscription.
14 Day Platinum Trial
(you will need to allow pop-ups from breakoutwatch.com to see the subscription form)
---