New TradeWatch List - Buy at Open
To allow our TradeWatch subscribers to more easily profit from the exceptional returns possible when buying after breakout when the expected gain is at least 75%, we have added a new list to TradeWatch called 'Buy at Open'. This list is compiled from stocks that broke out from the most recent watchlist and have an expected gain of at least 75% as calculated by our Expected Gain model. This model uses the ratio of breakout day volume to the 50 day average volume to improve the expected gain over that which can be calculated before breakout. The list shows the breakout price and suggested buy stop of 5% over the breakout price. The rationale for providing this list was presented in our two most recent newsletters which are available in the archive.
The new list is accessed from the navigation bar by clicking TradeWatch and then from the TradeWatch menu. The history of how this strategy would have performed over the last year is available under the TradeWatch History menu and charts of the performance of these stocks when linked to our Sell Assistant is available by clicking the symbol in the history list. Remember that our backtest results are obtained using no sell stop, so to replicate our results, you might need to set the sell stop to 99 after the chart displays and then display the chart again.
As the TradeWatch history is normally accessible only to TradeWatch members, there is a non-secured version of the list with links to annotated charts showing sell points given by our sell model here.
You will notice that the returns on any individual position are considerably higher than under the 'Best Return' strategy while it takes longer on average before the Sell Model issues a sell signal so the overall annualized returns can be slightly lower. Since most of you will buy individual positions, rather than the complete 'portfolio', it is the return per position that is most interesting.
As you look through the history, you will see that some of the returns given using the Sell Model are quite close to the maximum possible. For example, if you had bought GRS and held on until our sell model said sell, you would have realized a 121% gain.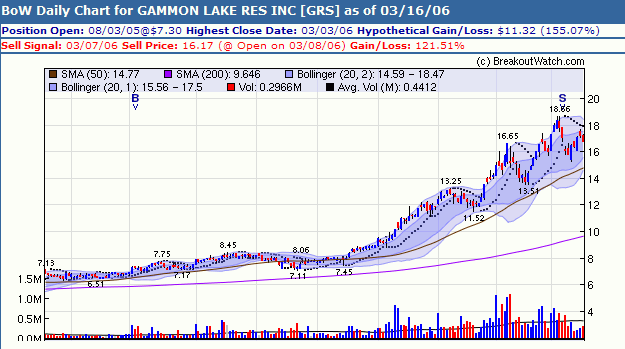 If you had bought WIRE on 8/11/05 and used the standard 8% stop loss, you would have been stopped out eleven days later. However, if you had used our sell model, you would have sold on March 9, 2006 and realized a gain of 119%. Note that the model would have taken you out of the position just before a 13% drop on March 16.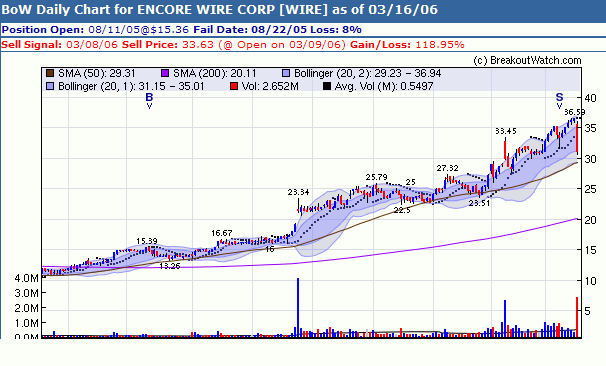 To discuss this new strategy, please post your comments to the Breakoutwatch Strategies Forum. The forums are open to non-subscribers.
---
If you think our service has great potential but you are too busy, or lack the technical analysis skills to apply our methods, you should consider talking to one of the investment advisors listed below.
Investment Advisors Using our Service
TradeRight Securities, located in a suburb of Chicago, is a full services investment management company and broker/dealer. They have been a subscriber, and user, of BreakoutWatch.com for some time now. They practice CANTATA and use Breakoutwatch.com as a "research analyst". You can learn more about TradeRight Securities at: www.traderightsecurities.com. If you're interested in speaking to a representative, simply call them toll-free at 1-800-308-3938 or e-mail gdragel@traderightsecurities.com.
PivotPoint Advisors, LLC takes a technical approach to investment planning and management. A breakoutwatch.com subscriber since May, 2004, they use breakouts, market signals, and now TradeWatch to enhance returns for their clients. Learn more at http://pivotpointadvisors.net or contact John Norquay at 608-826-0840 or by email at john.norquay@pivotpointadvisors.net.
Note to advisors: If you would like to be listed here, please contact us. As a service to those who support us, there is no additional charge to be listed here.
Get a 14 day Trial of our premium 'Platinum' service for just $9.95 and if you subsequently subscribe to any subscription level we will credit your $9.95 to your subscription.
14 Day Platinum Trial
(you will need to allow pop-ups from breakoutwatch.com to see the subscription form)
---