Fine Tuning Your Filters Using Backtesting
You probably know that you can filter our CwHwatch list but what values should you use? We provide some help with two standard filters called "CAN" and 'BOW' which give you a starting point. The CAN filter is set to values approximating the suggestions in How to Make Money in Stocks by William O'Neil. The 'BOW' filter is much more restrictive and is focused on those technical characteristics of a CwH handle that indicate a possible strong breakout at the next session. To help you adjust the filters to your needs, we provide a 'Backtest' feature that allows you to back test your filters over a time period of up to 12 months. We described how to use this feature in detail in our 8/6/2005 Newsletter.
A limitation of the filter back testing was that it did not provide much help if you wanted to find filters that would meet certain breakout day percentage gain or breakout day volume multiple objectives. An enhancement to the filter back testing now gives you extra help in two ways:
The filter values that correspond to the % gain and volume objectives are now provided on the backtest results summary
The filter values for each stock selected by the back test are available when the 'list' link is clicked on the summary page.
Suppose you want to fine tune the BOW filters to select stocks with a breakout day gain of 5%. To do so:
Click the BOW filter button
Click the Backtest button
Enter the number of days you want to backtest over and enter '5' as the minimum breakout day gain. Click Go.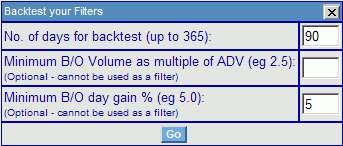 4. The resulting summary screen shows the minimum values of the filters that would have selected all stocks making at least a 5% gain on the day of breakout. This is only displayed when either or both of the breakout day options is selected.

5. To see the stocks corresponding to the selection, click the 'list' link in the No. of Breakouts column.

6. To see a T/A chart of the stock, click the symbol, or to see how the filter values compare to the actual metrics for the stock, click a 'Compare' link.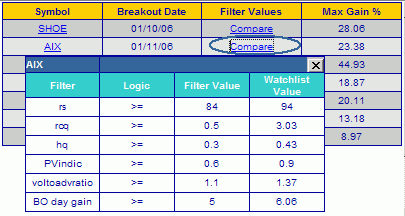 ---
If you think our service has great potential but you are too busy, or find it too complex, you should consider talking to one of the investment advisors listed below who use our service to generate great returns for their clients.
Investment Advisors Using our Service
TradeRight Securities, located in a suburb of Chicago, is a full services investment management company and broker/dealer. They have been a subscriber, and user, of BreakoutWatch.com for some time now. They practice CANTATA and use Breakoutwatch.com as a "research analyst". You can learn more about TradeRight Securities at: www.traderightsecurities.com. If you're interested in speaking to a representative, simply call them toll-free at 1-800-308-3938 or e-mail gdragel@traderightsecurities.com.
PivotPoint Advisors, LLC takes a technical approach to investment planning and management. A breakoutwatch.com subscriber since May, 2004, they use breakouts, market signals, and now TradeWatch to enhance returns for their clients. Learn more at http://pivotpointadvisors.net or contact John Norquay at 608-826-0840 or by email at john.norquay@pivotpointadvisors.net.
Note to advisors: If you would like to be listed here, please contact us. As a service to those who subscribe to us, there is no additional charge to be listed here.
Get a 14 day Trial of our premium 'Platinum' service for just $9.95 and if you subsequently subscribe to any subscription level we will credit your $9.95 to your subscription.
14 Day Platinum Trial
(you will need to allow pop-ups from breakoutwatch.com to see the subscription form)
---