Understanding Sell Signals from the Sell Assistant
As a subscriber remarked to me this week, buying is easy but selling is the hard part. That's why we felt our service would not be complete without providing sell assistance and why we have worked so hard at getting a Sell Model that gives good results. We use the Sell Model in two different ways, and confusion can arise if you don't understand the separate uses.
1. The Sell Assistant
The Sell Assistant is designed to determine if you should sell a stock at the close of the last day of trading as of when you use the tool. This can result in the Sell Assistant issuing a sell signal on a particular date but when you use it again with the same information a few days later, the sell signal may have disappeared. This will happen if the latest closing price is higher than the close on the day the original sell alert was issued.
Consider, for example, BOT bought from our TradeWatch Best Return list on 3/21/06 for a price of $131.20. A Sell Alert was issued on 3/28/06 and if you had looked at the Sell Assistant that night you would have seen: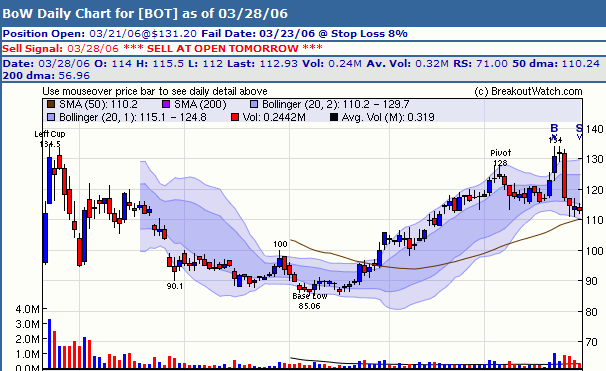 If you had looked a again a few days later, say on 4/5/06, you would have seen that the Sell Signal (indicated by the S) had disappeared: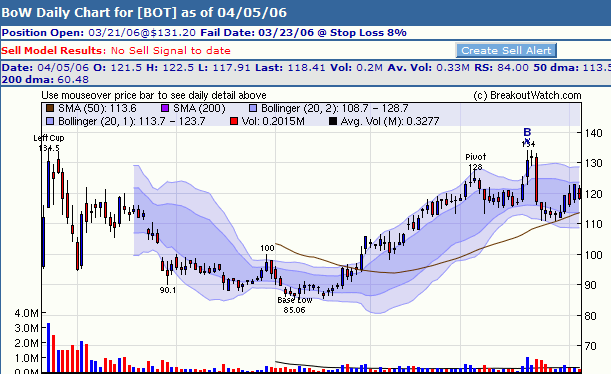 The reason for the apparent discrepancy is that the price had moved higher since the original sell alert was issued and so the earlier sell signal is ignored.
2. TradeWatch History
When you look at the TradeWatch history, we report the gain/loss based on when the first sell signal was issued by the sell model . We show that on the chart you obtain when clicking on symbol in the history list. So for BOT from the TradeWatch History you will see: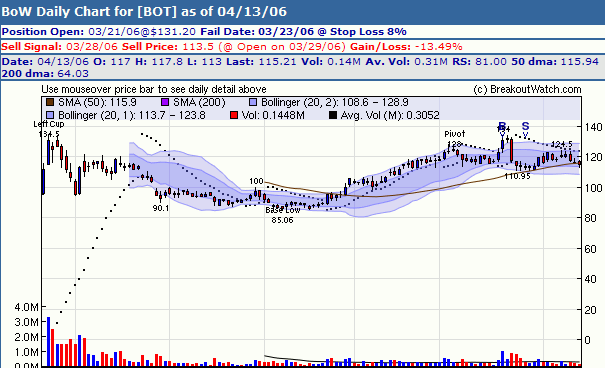 Conclusion
The Sell Assistant always tries to determine if you should sell the stock at the next open and ignores any previous sell signal it might have issued. When viewing the history of any stock on our TradeWatch lists, the first sell signal is shown to represent the results you might have obtained if you had traded the stock according to our methodology.
Another Bug Mea Culpa
While preparing this article, I discovered a bug that prevented sell alerts being issued under certain circumstances. The small number of tradeWatch subscribers affected by this bug have been notified.
---
If you think our service has great potential but you are too busy, or find it too complex, you should consider talking to one of the investment advisors listed below who use our service to generate great returns for their clients.
Investment Advisors Using our Service
TradeRight Securities, located in a suburb of Chicago, is a full services investment management company and broker/dealer. They have been a subscriber, and user, of BreakoutWatch.com for some time now. They practice CANTATA and use Breakoutwatch.com as a "research analyst". You can learn more about TradeRight Securities at: www.traderightsecurities.com. If you're interested in speaking to a representative, simply call them toll-free at 1-800-308-3938 or e-mail gdragel@traderightsecurities.com.
PivotPoint Advisors, LLC takes a technical approach to investment planning and management. A breakoutwatch.com subscriber since May, 2004, they use breakouts, market signals, and now TradeWatch to enhance returns for their clients. Learn more at http://pivotpointadvisors.net or contact John Norquay at 608-826-0840 or by email at john.norquay@pivotpointadvisors.net.
Note to advisors: If you would like to be listed here, please contact us. As a service to those who subscribe to us, there is no additional charge to be listed here.
Get a 14 day Trial of our premium 'Platinum' service for just $9.95 and if you subsequently subscribe to any subscription level we will credit your $9.95 to your subscription.
14 Day Platinum Trial
(you will need to allow pop-ups from breakoutwatch.com to see the subscription form)
---