Letting Winners Run - a work in progress
We've been noticing that there have been some stocks on our TradeWatch - Buy at Open list that have performed outstandingly this year, but that our sell model is causing us to sell them too soon. Here are some examples, but there are others:
Symbol
Buy Date
Buy Price
Max Gain YTD
Sell Model Results
Sell Date
Sell Price
Gain

ERS

1/12/06

12.11

301%

2/9/06

18.02

48.8%

CECE

2/1/06

7.25

78%

3/29/06

9.02

24.4%

COGO

1/24/06

8.26

67%

03/02/06

9.96

20.6%
Looking at all these situations we noticed that the when our Sell Model signaled a sell, the RS Rank on the sell date had not fallen. In other words, the stock was still outperforming the market to the same extent it was when we bought it. In the case of ERS for example, the RS Rank at breakout was 97 but when the sell signal was issued the RS Rank was 99 - in other words, compared to the rest of the market the stock was doing better than when we bought it! Here's how ERS's chart looks: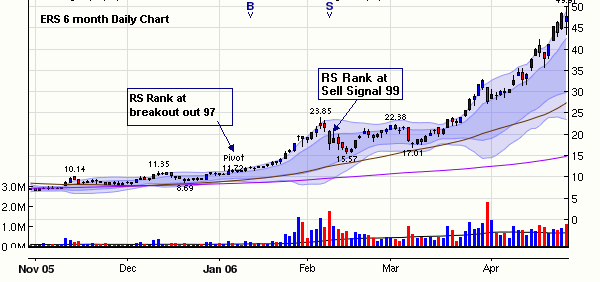 We therefore modified our algorithm to cancel the sell signal if the RS was at least as high as it had been when the stock was bought. That gave us the following results:
Symbol
Buy Date
Buy Price
Max Gain YTD
Modified Sell Model Results (as of 4/27)
Sell Date
Sell Price/Last Close
Gain

ERS

1/12/06

12.11

301%

No Signal

47.63

293%

CECE

2/1/06

7.25

78%

No Signal

10.34

42.6%

COGO

1/24/06

8.26

67%

No Signal

13.09

58.5%
In other words, our average gain went from 31.3% to 131% and we got much closer to the theoretical maximum gain possible. This result is skewed of course by the outstanding results from ERS, but still more than double when ERS is excluded.
Applying the old model and the modified model to all Buy at Open stocks since the start of 2006, gives the following results:
Current Sell Model Results - Buy at Open 2006

Modified Sell Model Results - Buy at Open 2006

Note that there were 6 stocks that were no longer closed out. Because they would have been substantial gainers anyway, the effect was to increase the percentage of losing stocks. The overall effect however was to almost triple the performance of the portfolio!
Next week we'll do some more back testing to see if these results hold up over time. For the time being, the old model remains in production. Meanwhile, what do you think of this approach?
I should add that before using the RS Rank test, I used O'Neil's formula of holding for at least 8 weeks stocks that made at least 20% in the first three weeks. I didn't find that worked unless I fiddled with the 3 and 8 weeks and 20% rule. Disliking arbitrary rules anyway, I find the RS Rank condition much easier to understand.
---
If you think our service has great potential but you are too busy, or find it too complex, you should consider talking to one of the investment advisors listed below who use our service to generate great returns for their clients.
Investment Advisors Using our Service
TradeRight Securities, located in a suburb of Chicago, is a full services investment management company and broker/dealer. They have been a subscriber, and user, of BreakoutWatch.com for some time now. They practice CANTATA and use Breakoutwatch.com as a "research analyst". You can learn more about TradeRight Securities at: www.traderightsecurities.com. If you're interested in speaking to a representative, simply call them toll-free at 1-800-308-3938 or e-mail gdragel@traderightsecurities.com.
PivotPoint Advisors, LLC takes a technical approach to investment planning and management. A breakoutwatch.com subscriber since May, 2004, they use breakouts, market signals, and now TradeWatch to enhance returns for their clients. Learn more at http://pivotpointadvisors.net or contact John Norquay at 608-826-0840 or by email at john.norquay@pivotpointadvisors.net.
Note to advisors: If you would like to be listed here, please contact us. As a service to those who subscribe to us, there is no additional charge to be listed here.
Get a 14 day Trial of our premium 'Platinum' service for just $9.95 and if you subsequently subscribe to any subscription level we will credit your $9.95 to your subscription.
14 Day Platinum Trial
(you will need to allow pop-ups from breakoutwatch.com to see the subscription form)
---