Head and Shoulders Chart Pattern to go Live on Monday
Beginning Monday, August 7, we will begin sending email alerts when stocks on our Head and Shoulders watchlist breakdown to their breakdown price and their projected daily volume is at least equal to the 50-day average volume. These will be sent to Gold and Platinum subscribers who have indicated they wish to receive breakdown alerts in the Account Management > Update Account area of the site.
Stocks in Head and Shoulder chart patterns (H&S) are displayed in Mine for Candidates > HeadnShoulderWatch. We modified the display to include more information about the stocks and added some interactivity to the charts so the daily open, high, low, close and volume is shown as you move your mouse over the candlesticks.
The display can take a few seconds to load because we are displaying all the charts on the same page. This avoids clicking the symbol to get a new chart as we have done in our other displays. Because there are only a handful of stocks on the list, this is more efficient. If the list starts to get quite long then we wil have to revise the display.
It is important to understand that the algorithm that recognizes H&S patterns cannot be certain that there is a definite right shoulder if the stock has just made a new local high. Consider CBK as it was last Thursday.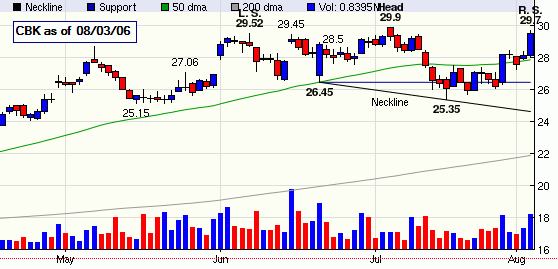 It had just made a new local high and was labeled as a right shoulder (R.S.) but we can't be certain it is a true right shoulder at this point. The stock could decline to make a true R.S. or go on to make a higher local high in the next day or so. In cases like this, although we can't be sure the current date is a true R.S., we put it on the watchlist because it may breakdown on the next day. This happened quite often in our backtest (14% brokedown within 1 day).
We can have more confidence that the R.S. is a true R.S. as we move forward and another local high isn't set. We can only be absolutely certain that it was a true R.S. when the breakdown occurs. In the backtest, 50% of breakdowns occurred within 7 days.
Stocks will also appear on the H&S watchlist if thethey have broken down and then retraced to above their breakdown point. This is quite common and they can breakdown several times before recovering , if at all.
As always, we welcome your comments and suggestions. Please post them to the Breakoutwatch Forum.
Investment Advisors Using our Service
TradeRight Securities, located in a suburb of Chicago, is a full services investment management company and broker/dealer. They have been a subscriber, and user, of BreakoutWatch.com for some time now. They practice CANTATA and use Breakoutwatch.com as a "research analyst". You can learn more about TradeRight Securities at: www.traderightsecurities.com. If you're interested in speaking to a representative, simply call them toll-free at 1-800-308-3938 or e-mail gdragel@traderightsecurities.com.
PivotPoint Advisors, LLC takes a technical approach to investment planning and management. A breakoutwatch.com subscriber since May, 2004, they use breakouts, market signals, and now TradeWatch to enhance returns for their clients. Learn more at http://pivotpointadvisors.net or contact John Norquay at 608-826-0840 or by email at john.norquay@pivotpointadvisors.net.
Note to advisors: If you would like to be listed here, please contact us. As a service to those who subscribe to us, there is no additional charge to be listed here.
Get a 14 day Trial of our premium 'Platinum' service and TradeWatch for just $9.95 and if you subsequently subscribe to any subscription level we will credit your $9.95 to your subscription.

14 Day Platinum Trial
(you will need to allow pop-ups from breakoutwatch.com to see the subscription form)
---