Breakdown Day Volume not Significant in Head and Shoulders Breakdowns
Last week we announced that we would send email alerts when stocks on our head and shoulders pattern watchlist fall to their breakdown price and their projected volume is at least equal to their average daily volume. In fact, we did not place a limit on daily volume and sent email alerts as soon as the breakdown price was reached. Why the change? After the announcement, we looked at the volume patterns for a successful H&S breakdown and concluded that the volume was not a significant factor.
The chart on the right shows a histogram of the number of breakdowns since 1999 against the breakdown day volume as a multiple of average daily volume. It is clear that there are many successful breakdowns when the daily volume is much less than the daily average (the daily average is at 1.0 on the horizontal axis).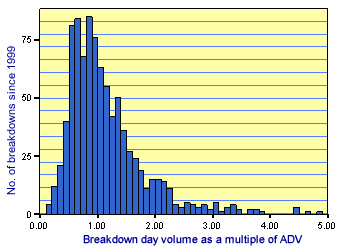 This is very clear in the next chart which shows a cumulative histogram. It is evident that 50% of successful breakdowns occur at less than the average daily daily volume.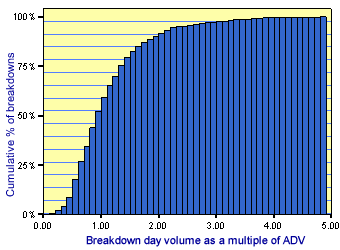 The question then arises as to whether or not the potential profit after breakdown is related to the breakdown day volume. If the potential return was greater on higher breakdown day volume then there would be justification in filtering the alerts by volume. In fact, we see that there is no relationship between potential return and breakdown day volume. The following chart is a scatter plot of the actual potential profit from each breakdown. You can see that substantial returns are possible when the breakdown day volume is well below the average.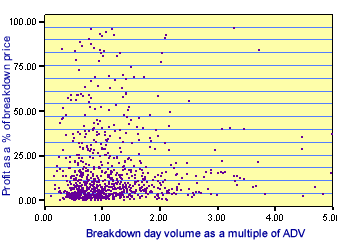 We will consider a breakdown from an H&S pattern as confirmed if it closes below the breakdown price at the end of the alert day.
As always, we welcome your comments and suggestions. Please post them to the Breakoutwatch Forum.
Investment Advisors Using our Service
TradeRight Securities, located in a suburb of Chicago, is a full services investment management company and broker/dealer. They have been a subscriber, and user, of BreakoutWatch.com for some time now. They practice CANTATA and use Breakoutwatch.com as a "research analyst". You can learn more about TradeRight Securities at: www.traderightsecurities.com. If you're interested in speaking to a representative, simply call them toll-free at 1-800-308-3938 or e-mail gdragel@traderightsecurities.com.
PivotPoint Advisors, LLC takes a technical approach to investment planning and management. A breakoutwatch.com subscriber since May, 2004, they use breakouts, market signals, and now TradeWatch to enhance returns for their clients. Learn more at http://pivotpointadvisors.net or contact John Norquay at 608-826-0840 or by email at john.norquay@pivotpointadvisors.net.
Note to advisors: If you would like to be listed here, please contact us. As a service to those who subscribe to us, there is no additional charge to be listed here.
Get a 14 day Trial of our premium 'Platinum' service and TradeWatch for just $9.95 and if you subsequently subscribe to any subscription level we will credit your $9.95 to your subscription.

14 Day Platinum Trial
(you will need to allow pop-ups from breakoutwatch.com to see the subscription form)
---