Simulated Tradewatch Portfolio Returns
A subscriber asked what the return on our Tradewatch Buy at Open strategy would be if you invested $10k in each position. There is no easy answer, as it depends on when you invest and how many positions your investment strategy allows you to hold at the same time. The only way to answer the question meaningfully was to build a tool which allows the backtesting of portfolio returns against realistic assumptions and time periods. We're pleased to make that tool available to Tradewatch subscribers now. It is available under the Tradewatch History menu choice.
Choosing Tradewatch History > Backtest presents you with the following screen: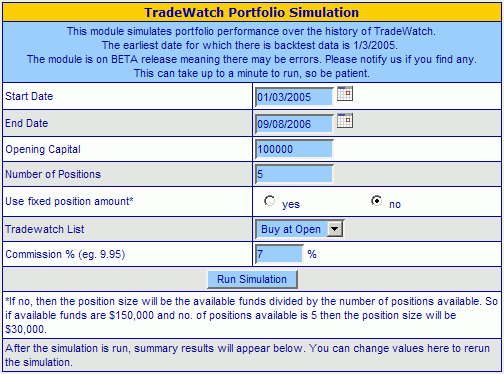 The screen is mostly self explanatory, although the fixed position amount option may need some elaboration. If you choose a fixed position amount, then every position will be bought using the 1/nth of the initial portfolio size, where n is the number of positions. If not, then the position size will be calculated by dividing the portfolio cash balance by the number of available positions. If you sell at a profit, then your available cash increases and your next position size will be increased. Conversely, if you sell at a loss, your available cash is depleted and your next position size will be smaller.
Clicking the 'Run Simulation' causes the system to simulate buy and sell orders according to the history of Tradewatch listed stocks. Buys are made sequentially from the start date and sales are made as suggested by the Sell Assistant default behavior without stop loss or trailing stop options. Commission is calculated on each trade using the % you supply.
Running the default simulation as shown above provides the following result. It can take a little while depending on the length of the period being simulated, so be patient.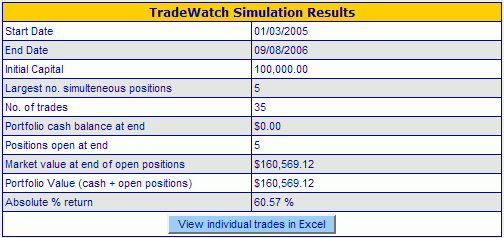 Clicking the 'View individual trades in Excel' button will open up an Excel spreadsheet of the actual trades that were simulated including those that not bought because of the portfolio size limitation.
The simulation tool allows you to experiment with different number of positions in your portfolio and over different periods. For example, we can compare a Tradewatch portfolio against the S&P 500 over the last 18 months during periods of rally and correction.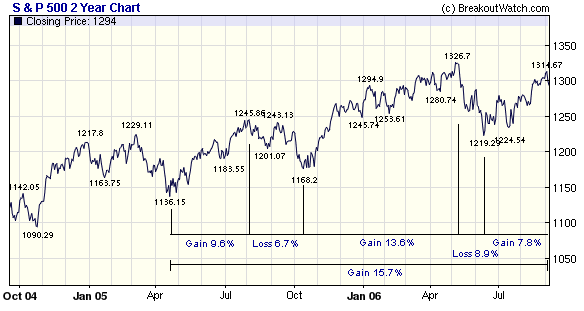 Now we can compare a Tradewatch portfolio to the S&P 500 using both the Buy at Open and Best Return strategies. We'll use position limits of 8 and 4 which are within the range usually recommended. We get some interesting results.
Portfolio Simulation
S&P 500
Tradewatch
Buy at Open
Best Return
Using 8 positions
4/20/05 - 7/29/05
9.6%
19.2%
16.6%
7/29/05 - 10/13/05
-6.7%
3.1%
2.6%
10/13/05 - 5/8/06
13.6%
40.6%
24.2%
5/8/06 - 6/14/06
-8.9%
-0.7%
-2.8%
6/14/06 - 9/5/06
7.8%
-3.8%
-1.5%
Overall (4/20/05 - 9/5/06)
15.7%
50.6%
56.8%
Using 4 positions
4/20/05 - 7/29/05
9.6%
14.6%
26.7%
7/29/05 - 10/13/05
-6.7%
10.2%
-0.7%
10/13/05 - 5/8/06
13.6%
54.7%
50.4%
5/8/06 - 6/14/06
-8.9%
-1.4%
-5.6%
6/14/06 - 9/5/06
7.8%
-8.9%
-2.7%
Overall (4/20/05 - 9/5/06)
15.7%
62.5%
94.9%
The overall results beat the sum of the individual periods, because the sequence of buys and sells is different. Buying into a downturn produces losses, but not as severe as the overall market. Although the two strategies easily beat the S&P overall, it is interesting that they under-performed during the most recent rally. I don't have an explanation for that, except that our market signal said to stay in cash and that position is reflected in the Sell Assistant's daily recommendation. It is also interesting that a 4 position limit beats an 8 position limit. This may be because the first ones to be bought during a rally, outperform those that come later.
I can't emphasize too much that these are very realistic returns and are based on a wholly mechanical, reproducible system that requires little or no thought on the part of the tradewatch subscriber, other than to place buy and sell orders for execution the next day according to the stop and limit instructions given through Tradewatch.
Let me know what you think of this tool and how to improve it.
Investment Advisors Using our Service
TradeRight Securities, located in a suburb of Chicago, is a full services investment management company and broker/dealer. They have been a subscriber, and user, of BreakoutWatch.com for some time now. They practice CANTATA and use Breakoutwatch.com as a "research analyst". You can learn more about TradeRight Securities at: www.traderightsecurities.com. If you're interested in speaking to a representative, simply call them toll-free at 1-800-308-3938 or e-mail gdragel@traderightsecurities.com.
PivotPoint Advisors, LLC takes a technical approach to investment planning and management. A breakoutwatch.com subscriber since May, 2004, they use breakouts, market signals, and now TradeWatch to enhance returns for their clients. Learn more at http://pivotpointadvisors.net or contact John Norquay at 608-826-0840 or by email at john.norquay@pivotpointadvisors.net.
Note to advisors: If you would like to be listed here, please contact us. As a service to those who subscribe to us, there is no additional charge to be listed here.
Get a 14 day Trial of our premium 'Platinum' service and TradeWatch for just $9.95 and if you subsequently subscribe to any subscription level we will credit your $9.95 to your subscription.

14 Day Platinum Trial
(you will need to allow pop-ups from breakoutwatch.com to see the subscription form)
---