More Additions to the TradeWatch Portfolio Simulation Tool
Thank you to those of you that have made suggestions on how to improve this valuable tool. This week we've added options to limit the price of stocks that are selected and also set a minimum volume limit. The default values for the selection screen are now set for the year to date and give a very good return against the S&P 500. The screen has also been modified to provide more help in its use. Using the default values, the simulation gives a return of 64.4% year-to-date compared to a gain in the S&P 500 of 8.4% (as of Thursday, 10/5/06). These are real returns using a purely mechanical approach of buying at open and selling at open based on our buy and sell signals and include brokerage fees ($7 at Scottrade, but you can enter your own commission costs).
It is important to remember that the 'Buy at Open' list is derived from stocks that have a high 'expected gain' after breakout as predicted by our Expected Gain Model. Our research for the model showed that stocks with lower prices and lower average daily volumes generally give the best return, and that result leads the model to predict a higher expected gain for low price, low volume stocks. Consequently, there is a predominance of low price, low volume stocks on the Buy at open list. Some purists may prefer higher priced, higher volume stocks but our study found that they do not deliver the best returns after breakout, compared to others we include in our cup-with-handle search criteria.
The Portfolio Simulation screen now looks like this: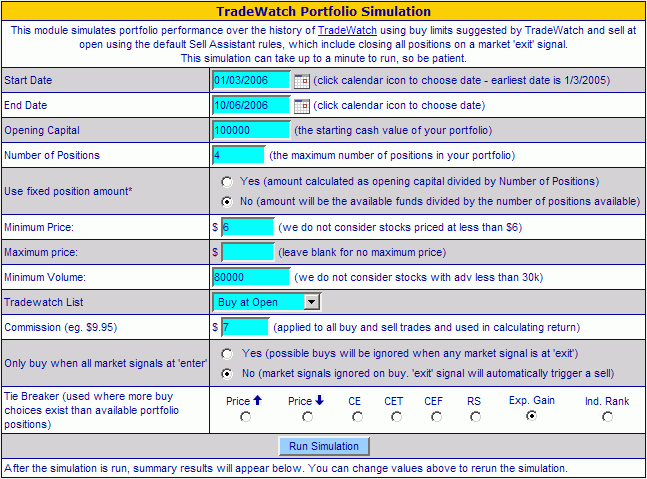 The results look like this: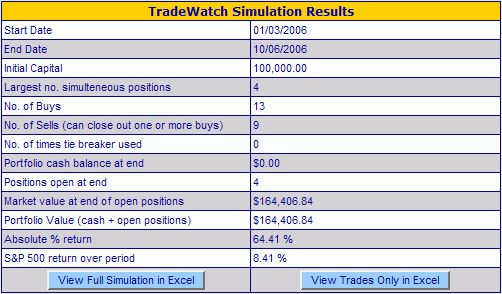 This tool is still undergoing testing and enhancement. It is available to all subscribers and guests and you can test the tool here. I encourage you to try different options, and if you find any errors then please let me know. Also, let me know what you think of this tool and how to improve it.
Investment Advisors Using our Service
TradeRight Securities, located in a suburb of Chicago, is a full services investment management company and broker/dealer. They have been a subscriber, and user, of BreakoutWatch.com for some time now. They practice CANTATA and use Breakoutwatch.com as a "research analyst". You can learn more about TradeRight Securities at: www.traderightsecurities.com. If you're interested in speaking to a representative, simply call them toll-free at 1-800-308-3938 or e-mail gdragel@traderightsecurities.com.
PivotPoint Advisors, LLC takes a technical approach to investment planning and management. A breakoutwatch.com subscriber since May, 2004, they use breakouts, market signals, and now TradeWatch to enhance returns for their clients. Learn more at http://pivotpointadvisors.net or contact John Norquay at 608-826-0840 or by email at john.norquay@pivotpointadvisors.net.
Note to advisors: If you would like to be listed here, please contact us. As a service to those who subscribe to us, there is no additional charge to be listed here.
Get a 14 day Trial of our premium 'Platinum' service and TradeWatch for just $9.95 and if you subsequently subscribe to any subscription level we will credit your $9.95 to your subscription.

14 Day Platinum Trial
(you will need to allow pop-ups from breakoutwatch.com to see the subscription form)
---