Effect of Breakout Gaps on Breakout Returns
Some subscribers were concerned that our performance reporting was distorted because we included stocks that gapped up above 5% over their pivot price and did not trade within the 5% limit thereafter. We agree with them and have adjusted our performance reporting to include only stocks that traded within the 5% range on the breakout day. The effects can be seen in the comparison below, which shows the Recent Breakouts summary statistics as of Thursday, 10 November 2006. These cover the last 90 days of trading.
| | | |
| --- | --- | --- |
| Breakout Summary | Including Breakout Gaps | Excluding Breakout Gaps |
| Number of Sustained Breakouts | 585 | 505 |
| Avg. % gain to intra-day high | 12.08% | 11.88% |
As you can see, although there were 80 stocks that gapped up and did not trade within 5% of the breakout price on breakout day, their affect on the overall average return was slight. Note that this is now a conservative result, because the 80 stocks may have traded within the 5% range subsequently, but they are not included in the analysis.
5-Day Close added to Swing Trade List
Our Swing trade list is derived from those stocks poised to breakout which our models show could give the best returns over the next five days. At the request of subscribers, we've now added the price at the close on the fifth day and calculated an average return based on a sale at that price. The result are available through the TradeWatch History > Swing Trade > Trades Filled menu choice. Note although the average return (as at 11/10/06) is 1.21% (or 60.3% annualized), the average gain to intraday high for this group is 5.6%. That means substantially better returns are possible by actively trading the group.
TradeWatch Portfolio Simulation Extended to Day Trade and Swing Trade lists
After we published the potential day trade results year-to-date last week, we were asked to add the day trade list to the Portfolio Simulation tool. We've now done that and included the Swing Trade list also. Note that in both cases the profit per trade is calculated using a sell price either at the end of day 1 (day trade) or day 5 (swing Trade).
When running the simulation on the day trade or swing trade list, it is important to understand the effect of the 'number of positions' parameter. This limits the amount invested per position. So if there is only 1 buy choice available on the day trade list, for example, on any given day, then only 1/n of your available cash will be applied to the position. The effect is that for the day trade and swing trade simulation, the best overall returns are obtained with a position number of 1. This means that for the day trade list all your available cash will be applied each day.
The results are quite impressive (modest understatement!). For the day trade scenario, using RS as the tie breaker and ignoring market signals (which have little short term effect), for the year-to-date, a $100,000 dollar portfolio would have grown to $332,155.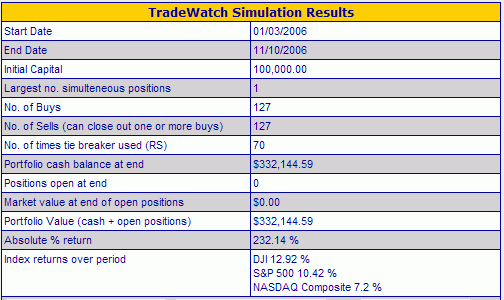 It also instructive to see how the portfolio value would have accumulated over the simulation period. Here is the 'Equity Chart' for the day trade simulation shown here.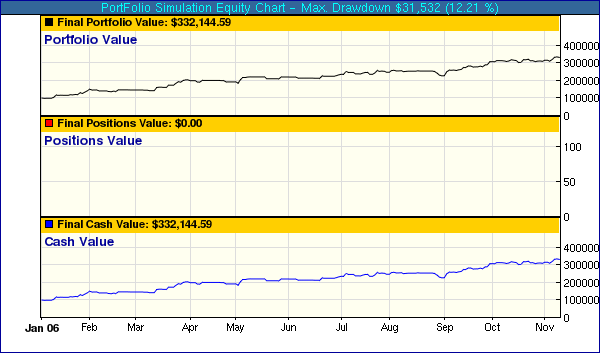 For the swing trade simulation, using market signals and Expected Gain as the tie breaker, the result was a 96% return.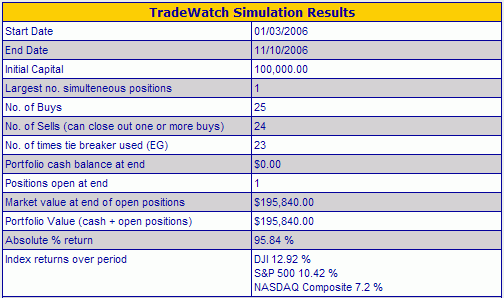 Here is the 'Equity Chart' for the swing trade simulation shown here. The flat periods on the Cash Value correspond to periods when the market signal was at exit and no trades were being executed.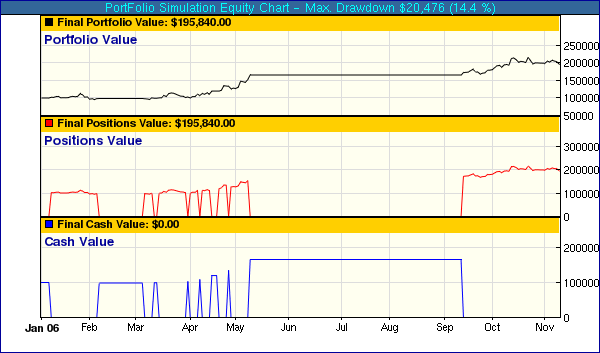 Investment Advisors Using our Service
TradeRight Securities, located in a suburb of Chicago, is a full services investment management company and broker/dealer. They have been a subscriber, and user, of BreakoutWatch.com for some time now. They practice CANTATA and use Breakoutwatch.com as a "research analyst". You can learn more about TradeRight Securities at: www.traderightsecurities.com. If you're interested in speaking to a representative, simply call them toll-free at 1-800-308-3938 or e-mail gdragel@traderightsecurities.com.
PivotPoint Advisors, LLC takes a technical approach to investment planning and management. A breakoutwatch.com subscriber since May, 2004, they use breakouts, market signals, and now TradeWatch to enhance returns for their clients. Learn more at http://pivotpointadvisors.net or contact John Norquay at 608-826-0840 or by email at john.norquay@pivotpointadvisors.net.
Note to advisors: If you would like to be listed here, please contact us. As a service to those who subscribe to us, there is no additional charge to be listed here.
Get a 14 day Trial of our premium 'Platinum' service and TradeWatch for just $9.95 and if you subsequently subscribe to any subscription level we will credit your $9.95 to your subscription.

14 Day Platinum Trial
(you will need to allow pop-ups from breakoutwatch.com to see the subscription form)
---