Using the Sell Assistant Optional Settings
Our Sell Assistant tool allows you to override the default settings by specifying your own stop loss, trailing stop from intraday high, or target price. Until now, we have not provided any guidance on the use of these options but the addition of the Sell Assistant Options to the TradeWatch simulation tool (see above) allows us to provide some backtesting results now.
These results show that during 2006 to date, the best returns were obtained by using default Portfolio Simulation settings with the following Sell Assistant overrides: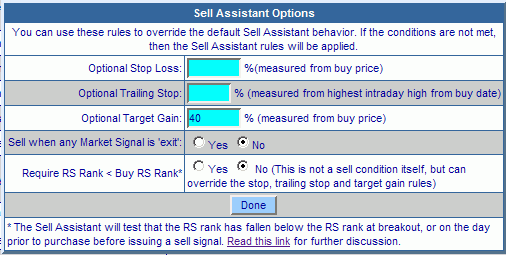 This gave the following result: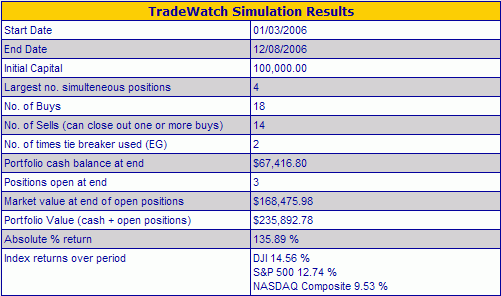 We found that using a stop loss, or a trailing stop was much less rewarding as the following 3-D bar charts show:
To arrive at these results, we backtested 1000 combinations of the Sell Assistant Options with the default Portfolio Simulation options. In the interests of transparency, these are available in an Excel spreadsheet here.
You can verify the results for yourself on-line, of course, and also see the trades that were made and the reasons for selling when you access the supporting files for each run.
So we now make the following recommendation for using the Sell Assistant in conjunction with TradeWatch - use a Target Gain of 30 - 40%. If the stock reaches that threshold, a sell alert will be issued. If the target is not met, then the default Sell Assistant rules will apply.
For those subscribers who are nervous about not using a stop loss, this tool allows you choose a stop loss value that is a reasonable compromise between overall return and safety. Our backtesting showed a very acceptable return of 81.6% was achieved with this combination of settings: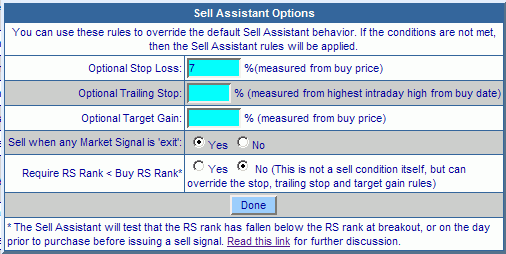 Investment Advisors Using our Service
TradeRight Securities, located in a suburb of Chicago, is a full services investment management company and broker/dealer. They have been a subscriber, and user, of BreakoutWatch.com for some time now. They practice CANTATA and use Breakoutwatch.com as a "research analyst". You can learn more about TradeRight Securities at: www.traderightsecurities.com. If you're interested in speaking to a representative, simply call them toll-free at 1-800-308-3938 or e-mail gdragel@traderightsecurities.com.
PivotPoint Advisors, LLC takes a technical approach to investment planning and management. A breakoutwatch.com subscriber since May, 2004, they use breakouts, market signals, and now TradeWatch to enhance returns for their clients. Learn more at http://pivotpointadvisors.net or contact John Norquay at 608-826-0840 or by email at john.norquay@pivotpointadvisors.net.
Note to advisors: If you would like to be listed here, please contact us. As a service to those who subscribe to us, there is no additional charge to be listed here.
Get a 14 day Trial of our premium 'Platinum' service and TradeWatch for just $9.95 and if you subsequently subscribe to any subscription level we will credit your $9.95 to your subscription.

14 Day Platinum Trial
(you will need to allow pop-ups from breakoutwatch.com to see the subscription form)
---