Performance Comparison between Bases
A subscriber asked me this week how the performance compares between bases. I had not compared the performance previously, so it was an interesting exercise to perform. We don't have sufficient history to include the head and shoulders bottom, so we only looked at the cup-with-handle, double bottom and flat base.
Using the same methodology that is used for the cup-with-handle performance report*, the results are as follows:
Base
Start
Date*

No. of
Breakouts:

%. of Breakouts
Exceeding 5% Return:
% of Failures
Average Return
(incl. 8% stop losses):
Average Days to
Maximum gain:
Annualized Rate of
Return (incl. failures):

Cup-with-Handle

1/4/03

4402

71%
18%
49%
175
102%

Double Bottom

6/15/04

149

78 %
10%
36 %
182
72 %

Flat Base

3/19/04

368

66 %
16%
21 %
192
40 %

*The start date is date at which we first introduced the base on our watchlists.
As you can see from the table above, the cup-with-handle base is by far the most common, but also has the highest failure rate. This is offset by a much higher average return, however. In other words, a higher return is achieved at a higher level of risk, as it should be. The distribution of returns for the cup-with-handle base is: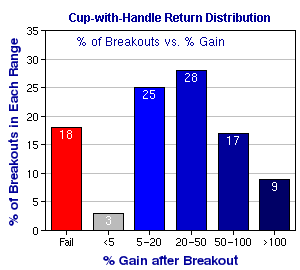 The Double Bottom base is the least common and has the lowest failure rate. This leads to more stocks exceeding the 5% gain line, but they return less on average than the cup-with-handle base and so their overall return is lower. So the Double Bottom breakout has less risk of failure and that lower risk comes at the cost of lower returns, as it should. The distribution of returns for the Double Bottom base is: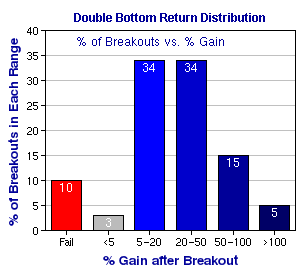 The flat base is a relatively poor performer. The failure rate is almost as high as for the cup-with-handle, but the average returns are much lower. On this evidence, buying Flat Base breakouts is a high risk, low return strategy. The distribution of returns from Flat Base breakouts is: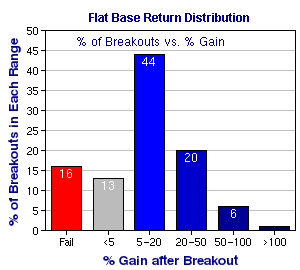 Important Note: The average returns shown are, of course, hypothetical and assume that each stock is sold at its subsequent highest intraday high. In practice, these returns could not be achieved. Nevertheless, I believe it does provide a useful way to compare the potential performance of each of the bases.
*Methodology
1. A 'breakout' occurs when a stock that is on our watchlist closes above the required minimum breakout price and volume. It is only included in the performance analysis if it traded within 5% of the breakout price on breakout day so stocks that gap up and do not trade within this range are excluded.
2. Price movements are followed at the close of that and each subsequent day for 12 months after breakout.
3. If the stock rises to 5% or more above the breakout price, the subsequent highest price achieved within 12 months is used to place the stock in one of the % gain after breakout categories shown in the accompanying charts, and to calculate the return. If the stock fails subsequently, it is not counted as a failure.
4. If the stock fails to reach 5% and then falls back to 8% or more below the breakout price, then the stock is counted in the 'fail' group and its subsequent performance ignored, unless it forms another base and breaks out again when it is treated as a separate breakout event.
5. Stocks that remain within the -8% to +5% range are still 'in-range' and counted in the <5% group. They are also used to calculate the overall return.
Investment Advisors Using our Service
TradeRight Securities, located in a suburb of Chicago, is a full services investment management company and broker/dealer. They have been a subscriber, and user, of BreakoutWatch.com for some time now. They practice CANTATA and use Breakoutwatch.com as a "research analyst". You can learn more about TradeRight Securities at: www.traderightsecurities.com. If you're interested in speaking to a representative, simply call them toll-free at 1-800-308-3938 or e-mail gdragel@traderightsecurities.com.
PivotPoint Advisors, LLC takes a technical approach to investment planning and management. A breakoutwatch.com subscriber since May, 2004, they use breakouts, market signals, and now TradeWatch to enhance returns for their clients. Learn more at http://pivotpointadvisors.net or contact John Norquay at 608-826-0840 or by email at john.norquay@pivotpointadvisors.net.
Note to advisors: If you would like to be listed here, please contact us. As a service to those who subscribe to us, there is no additional charge to be listed here.
Get a 14 day Trial of our premium 'Platinum' service and TradeWatch for just $9.95 and if you subsequently subscribe to any subscription level we will credit your $9.95 to your subscription.

14 Day Platinum Trial
(you will need to allow pop-ups from breakoutwatch.com to see the subscription form)
---