Why there were few breakouts this week
Although the markets have stabilized and the upward trend has resumed this week, the number of breakout attempts and therefore the number of successful breakouts is down sharply. The reason is primarily because stocks are beaten down to well below their pivot price and have a significant hurdle to overcome before a breakout is possible.
On Thursday, March 8, there were 108 stocks on the CwH list. Most of them were well below their pivot price as the following chart shows. Only 10 stocks (9%) were within 2% of their breakout price (pivot).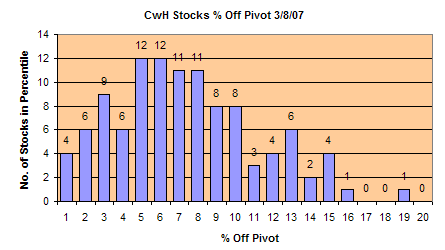 In comparison, since the start of the year, 51% of successful breakouts were within 2% of the pivot price on the eve of their breakouts.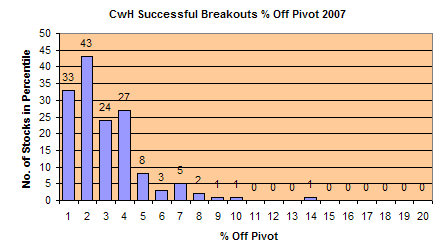 This confirms what we would suspect, that the closer a stock is to its pivot point, then the more likely it is to breakout successfully. Some stocks can surprise, of course, even when market conditions are unfavorable. On 2/28 Cooper Tire and Rubber (CTB) closed 13.4% off its pivot price but broke out the next day on six times average volume.
If the current upward trend is maintained, then more stocks will come within striking range of their pivot points and more alerts will be issued as they reach their pivot point intraday. For the breakout attempts to be successful, they will also need to reach 150% of their average daily volume as well. For that to happen, the current tepid volume levels will need to increase.
Investment Advisors Using our Service
TradeRight Securities, located in a suburb of Chicago, is a full services investment management company and broker/dealer. They have been a subscriber, and user, of BreakoutWatch.com for some time now. They practice CANTATA and use Breakoutwatch.com as a "research analyst". You can learn more about TradeRight Securities at: www.traderightsecurities.com. If you're interested in speaking to a representative, simply call them toll-free at 1-800-308-3938 or e-mail gdragel@traderightsecurities.com.
PivotPoint Advisors, LLC takes a technical approach to investment planning and management. A breakoutwatch.com subscriber since May, 2004, they use breakouts, market signals, and now TradeWatch to enhance returns for their clients. Learn more at http://pivotpointadvisors.net or contact John Norquay at 608-826-0840 or by email at john.norquay@pivotpointadvisors.net.
Note to advisors: If you would like to be listed here, please contact us. As a service to those who subscribe to us, there is no additional charge to be listed here.
Get a 14 day Trial of our premium 'Platinum' service and TradeWatch for just $9.95 and if you subsequently subscribe to any subscription level we will credit your $9.95 to your subscription.

14 Day Platinum Trial
(you will need to allow pop-ups from breakoutwatch.com to see the subscription form)
---