How to Use Short at Open Cover Prices
Our new Cover Alerts display is designed to give you a heads-up on when a cover might be needed on stocks that have been on our Short at Open list. The display is based on our cover model and gives you a suggested cover price for the next day's trading. If the cover price isn't met then a new cover price will be suggested the next day, and so on until teh stock is covered.
The basis for the cover model was described in our 3/3/7 newsletter. It is based on three rules:
the RSI must be less than 45
the price must rise to the projected Parabolic Stop and Reverse (PSAR) value for the next session. This is the cover price.
if these conditions are not met, then you should allow the stock to rise to 10% above the short price (price at which the short position was opened) before covering the position. This is because many short trades rise above the short price before they eventually succeed and we found 10% to be the optimal 'stop loss' level for these trades.
The Cover Alert display looks like this:

If the RSI based on the last close price is below 45 then the suggested cover price is based on the projected PSAR value. If the RSI has not fallen to less than 45, then the suggested cover price is the 10% stop loss value. The gain/loss percentages are calculated using the cover price, not the short price, as the basis for the trade. This leads to a real loss of 9.09% when a cover price of 10% above the short price is used.
If you have gone short on one of the stocks on our Short at Open list, and you are not able to monitor the market in real time, then you would use the cover price to place a Buy to Cover order with a stop price of the suggested cover price.
Clicking any symbol on the list will show an annotated Head and Shoulders chart such as the following: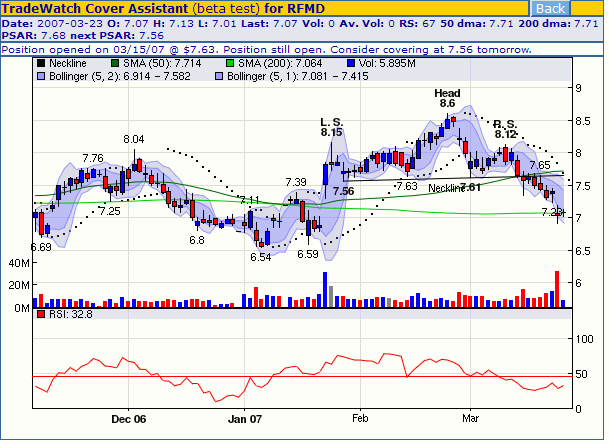 Investment Advisors Using our Service
TradeRight Securities, located in a suburb of Chicago, is a full services investment management company and broker/dealer. They have been a subscriber, and user, of BreakoutWatch.com for some time now. They practice CANTATA and use Breakoutwatch.com as a "research analyst". You can learn more about TradeRight Securities at: www.traderightsecurities.com. If you're interested in speaking to a representative, simply call them toll-free at 1-800-308-3938 or e-mail gdragel@traderightsecurities.com.
PivotPoint Advisors, LLC takes a technical approach to investment planning and management. A breakoutwatch.com subscriber since May, 2004, they use breakouts, market signals, and now TradeWatch to enhance returns for their clients. Learn more at http://pivotpointadvisors.net or contact John Norquay at 608-826-0840 or by email at john.norquay@pivotpointadvisors.net.
Note to advisors: If you would like to be listed here, please contact us. As a service to those who subscribe to us, there is no additional charge to be listed here.
Get a 14 day Trial of our premium 'Platinum' service and TradeWatch for just $9.95 and if you subsequently subscribe to any subscription level we will credit your $9.95 to your subscription.

14 Day Platinum Trial
(you will need to allow pop-ups from breakoutwatch.com to see the subscription form)
---