Market signals are generated by our Market Model based on distribution days and follow through days. A distribution day is one where the index closes down on higher volume than the previous day and follow through day is an accumulation day that occurs within a range of days (see below) after a market bottom. Note that our definition of a distribution day is clear cut and simple. This explains why our distribution day count on the NASDAQ this week climbed to five while a prominent investment daily only has the count at 3.
Each day after the market closes we look at the market movement for the day and assess whether the current signal should change.
If the current signal is 'enter', then we count the number of distribution days for each of the three major indexes over the last few trading sessions. We will issue an 'exit' signal if the number of distribution days exceeds a threshold as follows:
Distribution Day Thresholds for Exit Signals

Index

Distribution Days

No. Of Sessions

DJI

7

12

NASDAQ

5

15

S&P 500

9

18
If the current signal is 'Exit', then we look for the day on which the index set its lowest intraday low since the last exit signal was issued and closed above that low. We'll call that 'day 1' of the recovery since it closed above the lowest low. We then look for a follow through day where the index closed at least 1.5% above the close on 'day 1' and volume exceeded the previous day's volume (an accumulation day). That follow through day must occur within a certain minimum and maximum number of days after day 1 as follows:
Follow Through Day Limits

Index

Minimum Day No.

Maximum Day No.

DJI

4

7

NASDAQ

4

10

S&P 500

4

9
There is also an additional requirement that the close must be at least 0.05% above its 200 day moving average.
There is more information on how we built the model here.
How the Model worked in 2006
The model successfully avoided the large correction that began in May when it issued a sell signal on May 10. However, the requirement that a follow-through day can only occur if the index is above its 200 day moving average, meant that an enter signal was only issued on September 13, well after the market bottom. this significantly reduced the overall return and the model ended up breaking about even. The following chart shows the entry and exit points for 2006 and the returns for the index and the returns achieved if using the enter and exit signals. The 200 dma is also shown so you can see how the enter signal was delayed.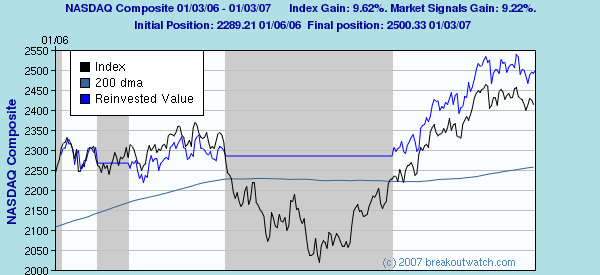 Model Performance Over 5 Years
Over the past five years the model has outperformed the NASDAQ Index by a factor of almost three: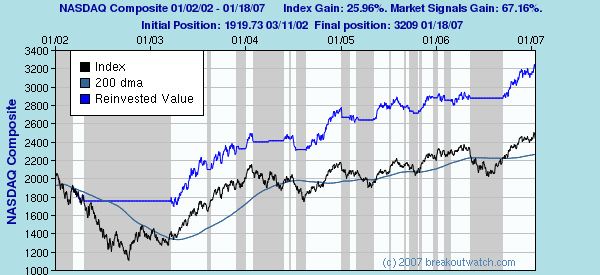 Investment Advisors Using our Service
TradeRight Securities, located in a suburb of Chicago, is a full services investment management company and broker/dealer. They have been a subscriber, and user, of BreakoutWatch.com for some time now. They practice CANTATA and use Breakoutwatch.com as a "research analyst". You can learn more about TradeRight Securities at: www.traderightsecurities.com. If you're interested in speaking to a representative, simply call them toll-free at 1-800-308-3938 or e-mail gdragel@traderightsecurities.com.
Note to advisors: If you would like to be listed here, please contact us. As a service to those who subscribe to us, there is no additional charge to be listed here.
Get a 14 day Trial of our premium 'Platinum' service and TradeWatch for just $9.95 and if you subsequently subscribe to any subscription level we will credit your $9.95 to your subscription.

14 Day Platinum Trial
(you will need to allow pop-ups from breakoutwatch.com to see the subscription form)
---