The Best Filters for Recent Market Conditions
Our backtest feature on the CwH watchlist provides you with a tool to identify the filters that work best in recent market conditions. The backtest feature and its use is described here.
We've done our own analysis for you and found that since April 1, the approximate date of the most recent upwards trend, the filters that select the best Cup-with-Handle breakouts are quite simple:
CET >= 6, UpDownRatio>=0.5, Industry_rank_CT<=25.
This set of filters beat the average return of all breakouts over the last 75 days by 51.5%. The filters would have given you 21 alerts with 7 breakouts confirmed. The average gain to the high since breakout would have been 23.6%, AND there would have been zero failures (a failure occurs when a breakout falls by more than 8% from its breakout price).

This result surprises us, because it is contrary to the trend we have seen over the 6 years we have operated the site in that industry rank (based on technical not fundamental criteria) has taken on an importance not previously seen. It reflects that in the uncertain market we have seen recently, investors have preferred 'quality' stocks over speculative issues. It is also notable that of the seven successful breakouts selected by these filters, only two were listed on the NASDAQ, which is consistent with the recent trend. the seven stocks are: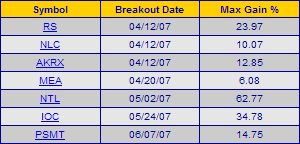 Investment Advisors Using our Service
TradeRight Securities, located in a suburb of Chicago, is a full services investment management company and broker/dealer. They have been a subscriber, and user, of BreakoutWatch.com for some time now. They practice CANTATA and use Breakoutwatch.com as a "research analyst". You can learn more about TradeRight Securities at: www.traderightsecurities.com. If you're interested in speaking to a representative, simply call them toll-free at 1-800-308-3938 or e-mail gdragel@traderightsecurities.com.
Note to advisors: If you would like to be listed here, please contact us. As a service to those who subscribe to us, there is no additional charge to be listed here.
Get a 14 day Trial of our premium 'Platinum' service and TradeWatch for just $9.95 and if you subsequently subscribe to any subscription level we will credit your $9.95 to your subscription.

14 Day Platinum Trial
(you will need to allow pop-ups from breakoutwatch.com to see the subscription form)
---