Why the Market Model Still Says 'Exit'
Our market model signaled an exit for the S&P 500 (representing the broader market) on November 1. From its close of 1508.44 on that date it subsequently lost 6.8% but has now recovered those losses since a rally began on November 27. Despite those gains in just seven sessions, our market model still stays at 'exit'.
The model requires an accumulation day on which the market closes at least 1.5% above the low on the fourth or subsequent day of the rally AND that the close be above the 200 day moving average by 0.05%.
A look at our equivolume chart shows that the first accumulation day came on the fourth day of the rally but the close was below the 200 dma. The next accumulation day came on the seventh day of the rally. The index did close above the 200 dma, but by less than 0.05%, so the signal stayed at exit.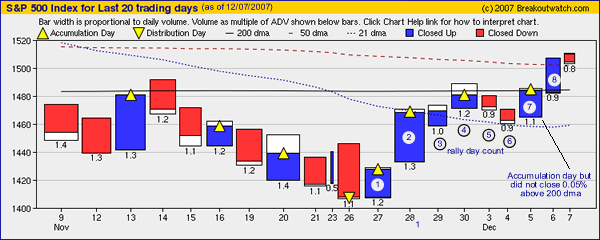 If the S&P 500 closes higher and we get an accumulation day following the FOMC meeting on Tuesday, then the signal will revert to 'enter'.
Investment Advisors Using our Service
TradeRight Securities, located in a suburb of Chicago, is a full services investment management company and broker/dealer. They have been a subscriber, and user, of BreakoutWatch.com for some time now. They practice CANTATA and use Breakoutwatch.com as a "research analyst". You can learn more about TradeRight Securities at: www.traderightsecurities.com. If you're interested in speaking to a representative, simply call them toll-free at 1-800-308-3938 or e-mail gdragel@traderightsecurities.com.
Note to advisors: If you would like to be listed here, please contact us. As a service to those who subscribe to us, there is no additional charge to be listed here.
Get a 14 day free Trial of our premium 'Platinum' service and TradeWatch. No Credit Card Required.
Click Here for 14 Day Free Trial
(you will need to allow pop-ups from breakoutwatch.com to see the subscription form)
---