Our industry analysis tools allow you to answer the key questions related to the analysis of stocks by industry, either from the top down (i.e. drill down from an industry sector) or bottom up (i.e. from the individual stock to its industry group).
What industry sector does a stock belong to?
What are the competitors in that industry?
How does the performance of that industry compare to others over the last 12 months?
Which stocks in an industry present a possible entry point now?
Industry Browser
Our Industry Browser allows a top-down search by industry or search by individual stock. The Industry Browser is found under Evaluate > Industry Analysis from our main menu.
Entering a symbol will cause the tool to return an expanded industry list tree showing the Industry components to which the symbol belongs. The industry components are ranked in order of technical merit as measured by our CET indicator.
For example, entering symbol OMCL on 12/13/07 would have given the following display.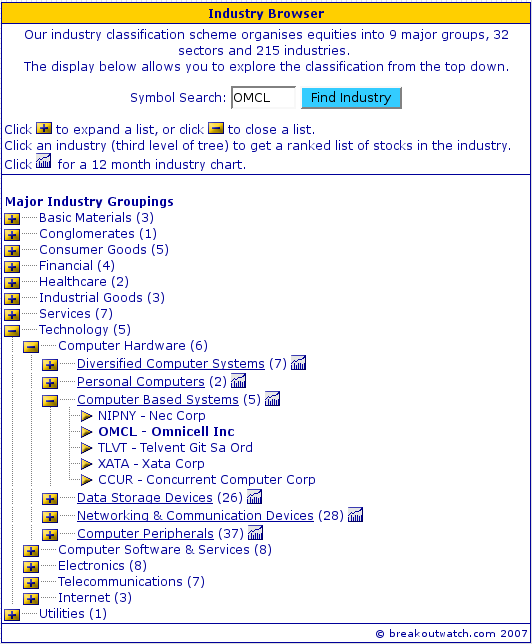 Clicking the industry name will bring up a list of the members of the industry group ranked in order of Relative Strength Rank. For the 'Computer Based Systems' group we obtain:

Note that in the 'List' column, there is a ' CwH' entry for OMCL. That indicates that OMCL currently appears on our cup-with-handle watch list and therefore could present an entry point opportunity if it breaks out.
Clicking the 'chart' icon next to the Industry Group name will show a chart of the industry's performance relative to other industries over the past 12 months.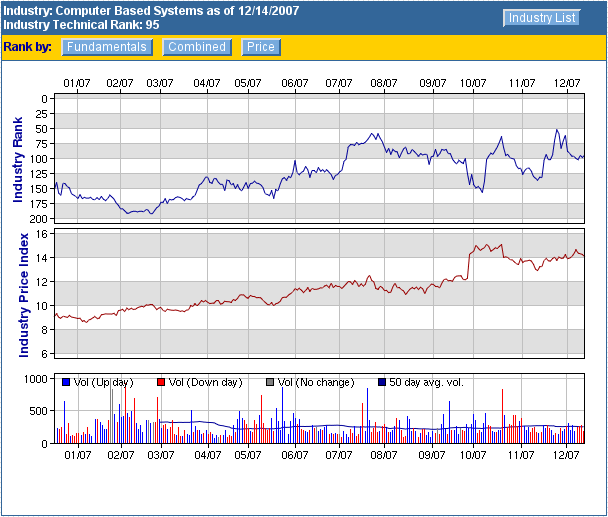 To find the best (or worst) performing industries, then use our industry rankings and performance page which is accessed which is also accessed from Evaluate > Industry Analysis on the main menu.
Investment Advisors Using our Service
TradeRight Securities, located in a suburb of Chicago, is a full services investment management company and broker/dealer. They have been a subscriber, and user, of BreakoutWatch.com for some time now. They practice CANTATA and use Breakoutwatch.com as a "research analyst". You can learn more about TradeRight Securities at: www.traderightsecurities.com. If you're interested in speaking to a representative, simply call them toll-free at 1-800-308-3938 or e-mail gdragel@traderightsecurities.com.
Note to advisors: If you would like to be listed here, please contact us. As a service to those who subscribe to us, there is no additional charge to be listed here.
Get a 14 day free Trial of our premium 'Platinum' service and TradeWatch. No Credit Card Required.
Click Here for 14 Day Free Trial
(you will need to allow pop-ups from breakoutwatch.com to see the subscription form)
---