High Tight Flag Coming In January
In How to Make Money in Stocks, William J. O'Neil identified the High, Tight Flag pattern as rare but potentially highly profitable. In his Encyclopedia of Chart Patterns, (John Wiley and Sons, 2000) Thomas Bulkowski found they were not so rare but also very profitable, provided you waited for the breakout to enter the trade. We have now developed an algorithm to recognize the pattern and found that it was rare in comparison to the cup-with-handle (CwH) but still found quite often.
Our algorithm looks for stocks that meet the following criteria:
they must have formed a handle within the last 3 weeks of trading
the handle must be at least 5 days long (we may reduce this on further research)
the decline in the handle must be no more than 20%
there must have been a gain of at least 100% in the eight weeks prior to the handle formation
there is no minimum price or volume requirement (we may add a minimum volume in the future)
Some definitions of the high,tight flag (HTF) require that the stock be moving sideways before the rise and that volume be declining in the handle (like the CwH). We have not incorporated those criteria in the algorithm.
We will release a new watchlist and alert service on January 2 using the HTF pattern. We will publish some performance figures for the last year in next weeks newsletter. The charts shown below are samples of what we found while looking for HTF's over the last year. The chart format is generated automatically by the pattern recognition algorithm and these will be linked to the watchlist, as our other charts are.
An example of a very successful HTF that we found was Questcor Pharmaceuticals (QSC). As of November 9,2007 it had been in an HTF pattern for 7 days: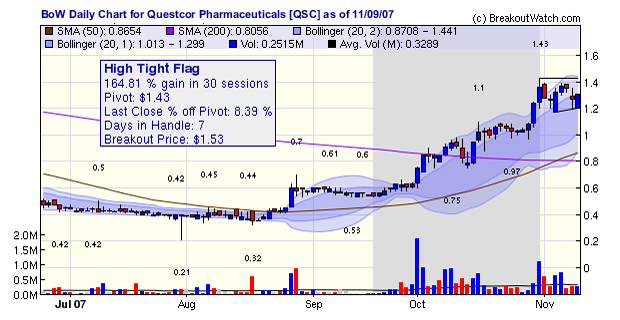 QSC broke out on November 12 and went on to gain 400% by yesterday's close.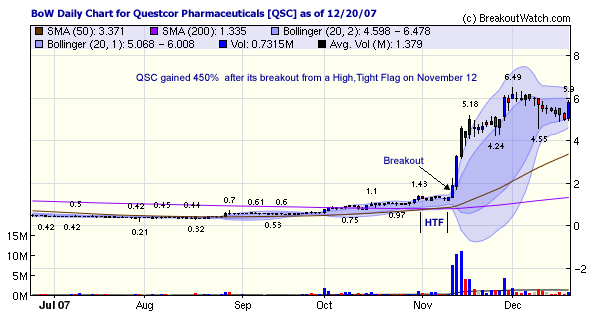 As of last Thursday evening, Suntech Power Holdings (STP) was in an HTF and broke out on Friday. This is one to watch. We took a major position in it intraday on Friday.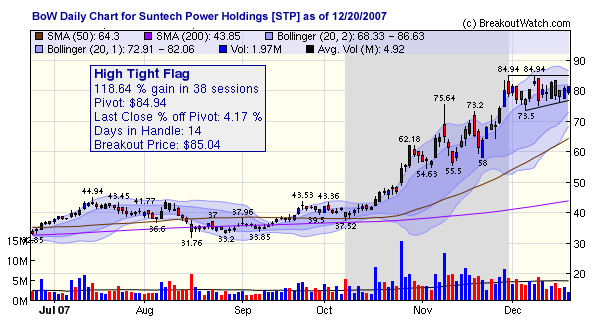 Investment Advisors Using our Service
TradeRight Securities, located in a suburb of Chicago, is a full services investment management company and broker/dealer. They have been a subscriber, and user, of BreakoutWatch.com for some time now. They practice CANTATA and use Breakoutwatch.com as a "research analyst". You can learn more about TradeRight Securities at: www.traderightsecurities.com. If you're interested in speaking to a representative, simply call them toll-free at 1-800-308-3938 or e-mail gdragel@traderightsecurities.com.
Note to advisors: If you would like to be listed here, please contact us. As a service to those who subscribe to us, there is no additional charge to be listed here.
Get a 14 day free Trial of our premium 'Platinum' service and TradeWatch. No Credit Card Required.
Click Here for 14 Day Free Trial
(you will need to allow pop-ups from breakoutwatch.com to see the subscription form)
---