Significance of Volume in High Tight Flag Breakouts
We continue our analysis of the High Tight Flag (HTF) pattern today.
We introduced alerts from the pattern this week but we departed from our usual emphasis on requiring heavy volume on breakout. To issue an alert, we only require that the intraday price exceed the pivot price and do not require that the volume exceed a specific multiple of the average daily volume (adv). This week we did an analysis of the volume on breakout day and concluded that this was the right decision.
We looked at the breakout day volume on all HTF patterns that we recognised since 2000. A histogram of the number of breakouts compared to the breakout day volume shows that breakouts can occur at any multiple of adv, although they are more common between 0.3 times adv and 2.1 times adv.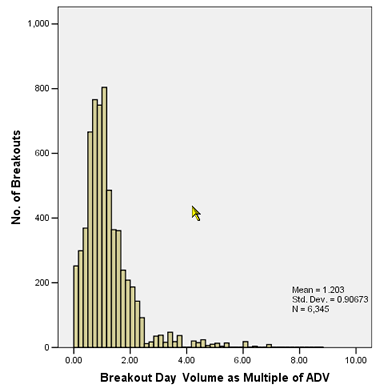 We also looked at the extent to which the eventual gain is related to the volume multiple on breakout day. We found that there was a significant correlation but there was no reason to set a threshold volume before investing in breakouts from this pattern. This scatterplot shows the regression line of max. gain after breakout to multiple of adv and its evident that high returns are possible even on low breakout volume.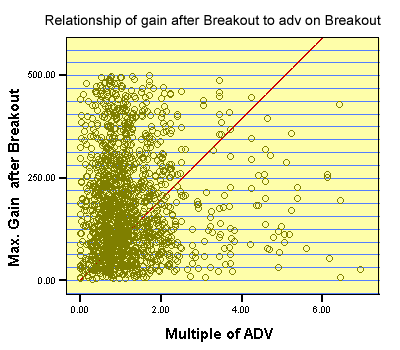 Investment Advisors Using our Service
TradeRight Securities, located in a suburb of Chicago, is a full services investment management company and broker/dealer. They have been a subscriber, and user, of BreakoutWatch.com for some time now. They practice CANTATA and use Breakoutwatch.com as a "research analyst". You can learn more about TradeRight Securities at: www.traderightsecurities.com. If you're interested in speaking to a representative, simply call them toll-free at 1-800-308-3938 or e-mail gdragel@traderightsecurities.com.
Note to advisors: If you would like to be listed here, please contact us. As a service to those who subscribe to us, there is no additional charge to be listed here.
Get a 14 day free Trial of our premium 'Platinum' service and TradeWatch. No Credit Card Required.
Click Here for 14 Day Free Trial
(you will need to allow pop-ups from breakoutwatch.com to see the subscription form)
---