Market Summary
January support levels to be tested next week......
unless another rescue plan and/or 0.75% rate cut intervenes.
A weekly chart of the S&P 500 (considered the most representative index of the health of the markets) shows the downward trend but that a floor has been put under the decline in recent weeks in anticipation that a recession will be avoided and the financial crisis is behind us. It is increasingly clear that these assumptions were overly optimistic.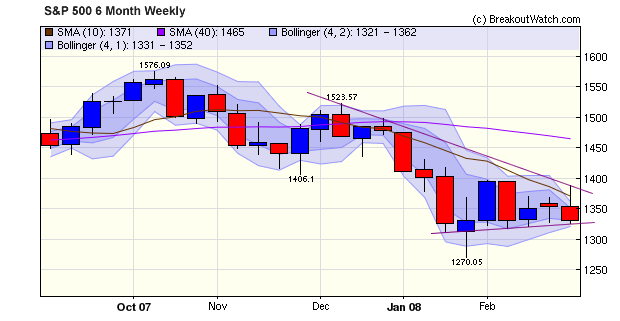 A week of deteriorating economic news was capped on Friday when we learned that consumer spending is just keeping pace with inflation which confirms that economic growth is barely above zero in real terms. The point was reinforced by an index of economic activity that fell to its lowest level since 2001. There was also a reminder that financial institutions still face losses despite already large write-downs when AIG took an $11.1 billion write-down on mortgage-backed securities and forecast further write-downs to come.
Just how deep those losses could be across the financial industry was brought home on Friday with the release of the most thorough published academic analysis on the subject yet: Leveraged Losses: Lessons from the Mortgage Market Meltdown. A conclusion of the report is
"Our baseline estimates imply just under a $2 trillion contraction in intermediary balance sheets, of which roughly $900 billion would represent a decline in lending to households, businesses and other non-levered entities".
This represents a liquidity withdrawal of 6% of GDP and is not dissimilar to the forecast of Prof. Roubini: The Staggering Fiscal Costs of Bailing Out a Financial System in Crisis.
Moral hazard notwithstanding, a Government bail out of the financial industry seems inevitable if chaos is to be avoided. A number of new ideas are in the works including "negative equity certificates" or introduction of a government agency like FDR's Home Owners' Loan Corporation (HOLC) to buy upside-down mortgages from banks and then issue new cheaper loans to homeowners. Both these ideas will effectively protect the banks from the losses they will experience if house prices are allowed to find their 'natural' floor.
Martin Wolf of the Financial Times offers this depressing observation on the management of the financial system:
"This is not a crisis of "crony capitalism" in emerging economies, but of sophisticated, rules-governed capitalism in the world's most advanced economy. The instinct of those responsible will be to mount a rescue and pretend nothing happened. That would be a huge error. .... A more fundamental lesson still concerns the way the financial system works. Outsiders were already aware it was a black box. But they were prepared to assume that those inside it at least knew what was going on. This can hardly be true now. Worse, the institutions that prospered on the upside expect rescue on the downside. They are right to expect this. But this can hardly be a tolerable bargain between financial insiders and wider society. Is such mayhem the best we can expect? If so, how does one sustain broad public support for what appears so one-sided a game? Yes, the government can rescue the economy. It is now being forced to do so. But that is not the end of this story. It should only be the beginning."