Market Summary
NASDAQ Finds Support While S&P 500 Collapses
A change of position by the Federal Reserve sent the market reeling on Wednesday and only low volume on Friday ahead of the long weekend saved it from a hammering on Friday. The minutes of the last FOMC meeting showed there was only weak support for further interest rate cuts as committee members feared that the risks of inflation were now equal to the risks of a weakening economy. This alarmed investors who have been happy to see lower rates and an expanding money supply even if it does lead to inflation because asset prices rise while debts are reduced in value. The NASDAQ rebounded from its primary support level (horizontal line on chart) on Friday and has yet to fall to the lower trend channel, but we can expect a test of that level at the lower Bollinger Band early next week.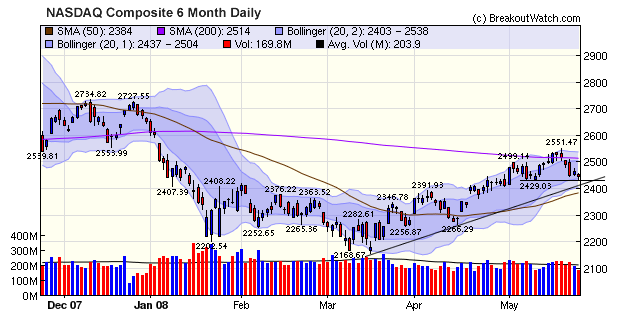 The S&P 500 has already fallen through its primary support level and lower trend line and we can expect it to move downward further as consumption contracts under the weight of higher energy costs, tighter credit and falling house prices.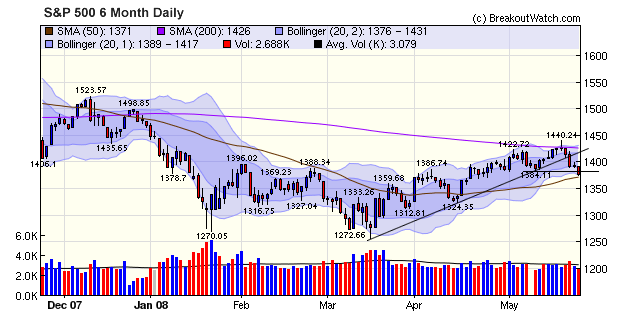 Although it appears the recent rally was a bull trap as we feared, I don't discount the possibility that the Treasury or Fed will come up with something new to forestall a test of the March low. Tuesday's action could be grim as investors return from the long weekend, and if so some intervention on Tuesday or Wednesday is possible.
The financial sector is weakening again and the next shoe to drop could be Countrywide. The prospects of the merger with Bank of America proceeding are looking slimmer and a bankruptcy by Countrywide would send new shock waves through the sector.
There were fewer breakouts this week as the contraction took the momentum out of the markets, but they still showed a profit by week's end whereas the major indexes tumbled more than 3%.
Finally, we wish all our subscribers a safe and happy holiday weekend.