Market Summary
Breakouts Outperform while Markets Under Distribution on Above Average Volume
Friday's rally after a week which saw distribution on the S&P 500 (see weekly SPX chart below) got us wondering if we hadn't seen this trading pattern before. It is rumored that the PTT ("Plunge Protection Team") likes to rally the markets on Friday after a losing week so as to leave investors optimistic over the weekend to avoid a 'black monday'. To put this theory to the test we looked at the number of times the markets had rallied on Friday after losing from Monday through Thursday since the markets peaked last October. To our surprise, we found no evidence for the theory. Since the beginning of October, the S&P 500 and NASDAQ Composite were both losing ground Monday to Thursday (or Wednesday if a short week) in 17 out of the 30 weeks. However, they rallied on the last day of the week just 4 times in the case of the S&P 500 and 6 times in the case of NASDAQ Composite. Although this doesn't prove that there is no market intervention, it does show that our perceptions have been wrong.
Analysts explained Friday's rally on a rise in retail sales during May and a core inflation rate
that was not worse than expected.
The supposedly modest increase in the core rate of only 0.2% was thought to minimize the chances that the Fed will raise interest rates later this year. However, there is so much bad news about the economy (gas prices, airline fares, rising food costs, rising unemployment, still falling home prices) that it is unlikely that the Fed will raise rates in the near future anyway despite this week's Bernanke bluff to talk up the dollar. As for the rise in retail sales, that can wholly be explained by inflation enabled by the economic stimulus package which will soon run its course.
The S&P 500 chart shows two successive distribution weeks of well above average market volume. The 'gravestone doji' for the week shows bears and bulls are in near equilibrium and is usually interpreted as signifying uncertainty about the future trend. Our view remains that the trend is still down and that the bottom is not yet in sight. This is painful for us to admit as the success of our methodologies, for the most part, depends on a rising market. Nevertheless, breakouts selected by our algorithms significantly outperformed the markets this week with an average gain to the weeks close of over 2.7%.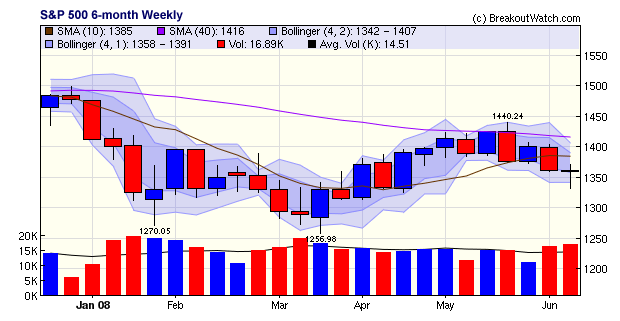 As we conclude this writing, we see that the New York Times is reporting that the Saudi's are going to increase oil production by 0.5 Million barrels/day or 5% of current production. This will likely affect markets on Monday to cause oil prices drop and the dollar to rise.