Market Summary
NASDAQ Market Signal switches to 'exit'
Friday's trading produced the fifth distribution day in 13 sessions for the NASDAQ and our market model issued an 'exit' signal. The weekly chart shows volume above the 50 day average for the last three weeks and also higher than volumes when the index was ascending from mid-March to May. The implication is that the optimism that followed the Bear Sterns bailout has evaporated and investors are now expecting that the financial crisis is not yet over, that the economy will continue to decline as the dollar continues to fall, inflation increases and consumers are continually assaulted by falling home prices, foreclosures and a credit squeeze.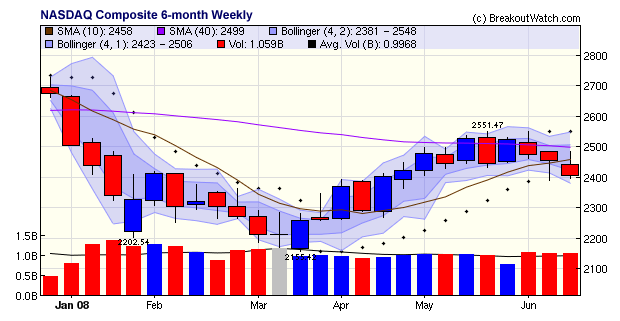 The short term solution to the falling dollar and consequent inflation of food and energy is to raise interest rates but that would further depress the equities markets that have already factored in a rate increase by September and exacerbate the credit crunch. It seems things will have to get worse before they can get better.
Of course, its always darkest before the dawn and we can look forward to more articles like this to deepen the gloom (from the London Daily Telegraph):
RBS issues global stock and credit crash alert
By Ambrose Evans-Pritchard, International Business Editor
The Royal Bank of Scotland has advised clients to brace for a full-fledged crash in global stock and credit markets over the next three months as inflation paralyses the major central banks.

"A very nasty period is soon to be upon us - be prepared," said Bob Janjuah, the bank's credit strategist.

A report by the bank's research team warns that the S&P 500 index of Wall Street equities is likely to fall by more than 300 points to around 1050 by September as "all the chickens come home to roost" from the excesses of the global boom, with contagion spreading across Europe and emerging markets.
Such a slide on world bourses would amount to one of the worst bear markets over the last century.