Over Friday night we introduced a new feature that allows subscribers to set an 'Entry Page'. Once set, subscribers will be taken automatically to the entry page without the need to login when they go to http://www.breakoutwatch.com
Coincident with the release of this feature we are introducing a new home page which is primarily aimed at site 'visitors'. The new 'Entry Page' feature allows subscribers to bypass the new home page and get straight to the information they find most useful. There is also a slightly modified menu structure with fewer first level choices.
Subscribers, including Trial users, should ensure that they visit http://www.breakoutwatch.com when they wish to access the site. So please make sure this is the only bookmark you use. The first time you visit that page you will see the new homepage. You should click the 'Login' button and you will then see a new login form: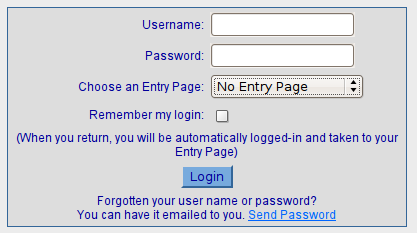 provide your username and password.
select an entry page (if you do not, the Market Analysis page will be your entry page by default)
check the 'remember' box.
You only need to do this once and thereafter when you go to http://www.breakoutwatch.com you will be logged in automatically.
If you wish to change your entry page, you can do so from the Update Account menu. This is now located under Support > Account Management > Update Account.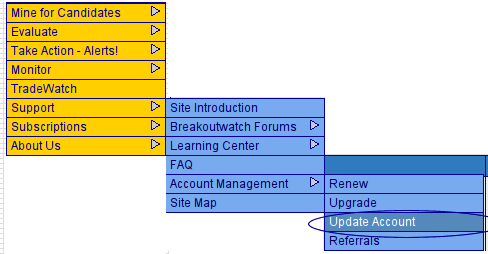 When you navigate there you will see a drop down menu allowing you to reset the Entry Page.
Navigation Menu Changes
We have reorganized the navigation menu so the choices focus on the principle services we provide. If you have difficulty finding what you are looking for in the new structure please look at the site map, which is under the Support menu.
Please post any questions/problems or suggestions about the new structure to the support forum.