Unemployment increases, our industrial base is collapsing, the american auto industry is insolvent but the markets have just completed their fourth successive week of gains. And very strong gains they are too. The NASDAQ added almost 5% and the Russell 2000 over 6%. Hooray, we say and hurry to jump on for the ride. Our market trend models continue to point upwards for the NASDAQ and Russell 2000 while they perceive the trend remains downward for the DJI, S&P 500 and Wilshire 5000.
Another measure of an improving market is the number of stocks overcoming resistance levels and this week we saw the number of breakouts was 50% higher than the recent average. In a strong market we often see more than double that number, but the improvement indicates institutions are putting funds to work on the long side at last.
The NASADQ Composite is now positive for the year by almost 3%. The next test for the NASDAQ is just 23 points (1.4%) away so we will likely find out in the next few days if the rally can break through resistance. To some degree this will depend on the markets remaining positively disposed towards the financial sector, as they have been for two weeks now. As we shall see below, this looks likely to continue as earnings season approaches.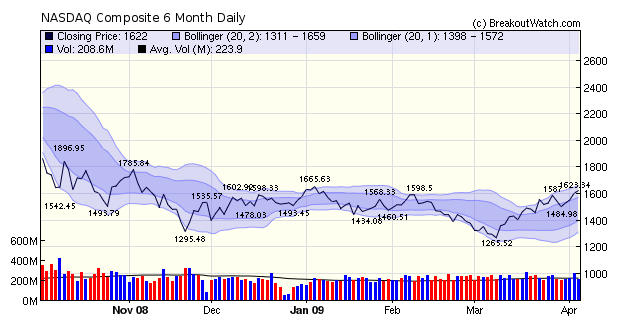 Just in time for earnings season, which starts next week with Alcoa being the first to report, the Financial Accounting Standards Board (FASB), under heavy pressure from Congress and the Banks, just changed the rules on how assets should be valued. The argument was that in a downward trending or frozen market, the mark-to-market rule was causing the 'toxic' assets to be grossly undervalued. This weakened the banks balance sheets, made the banks appear insolvent in some cases and limited the amount they could lend under the leverage rules. The rule change will now allow the banks to value these assets pretty much as they like, decreasing transparency and improving the banks' stated profitability (see How the FASB aids and abets obfuscation by wonky zombie banks). This is really just a shell game but with the connivance of Congress and the accounting authorities we are unlikely to find the pea any time soon.
The markets liked the rule change and the Financial sector has powered ahead. Profits (and dividends) drive prices so if the banks can show greater profits in the future then their share price must be undervalued now, hence the gain in price. As the cliche goes, 'a rising tide lifts all boats'.
An improvement in the banks' balance sheets, even if it's illusory, should have broader significance. Looser credit and lower interest rates will stimulate investment. Much of that investment will go to improve productivity through the purchase of newer technology so the outlook for the markets now is much more positive than it has seemed.