Beginning Tuesday, May 26, we will start sending email alerts from the Zacks Strong Buy watchlist. These email alerts will go to breakoutwatch.com Trial, Silver, Gold and Platinum subscribers who have joined the Zacks Premium Service and have indicated they wish to receive the email alerts.
We will send two kinds of email alert:
an intraday breakout alert when the stock meets the breakout price and projected volume requirements. These alerts will be clearly marked as coming from the Zacks Strong Buy Watchlist in the subject line.
a sell alert when a stock on which we previously issued an alert has lost its Strong Buy ranking. We update the rankings overnight by 5:30 am Eastern time and you will receive the sell alert at approximately that time. This will allow you to sell the stock at the open if you choose to do so.
To receive the emails, you should check the boxes (see image below) when you enter your Zacks username and password when first accessing the Zacks Strong Buy watchlist. Your choice will be remembered and displayed each time you access the watchlist for the first time in future.
Email alerts from this watchlist will only be sent while your Zacks subscription is current.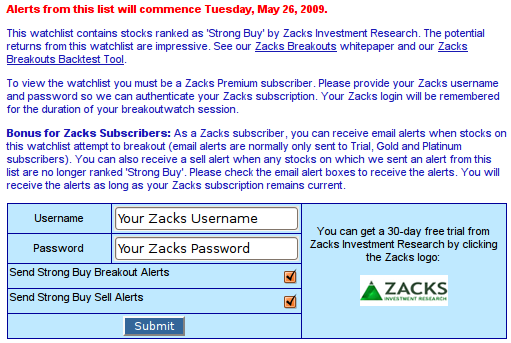 Future enhancements planned for this watchlist service are:
a real time alert monitor similar to that implemented for our other watchlists
a list of current sell alerts
an end-of-day report for Zacks Strong Buy Breakouts
a performance report
Because the Zacks 'Strong Buy' rank is proprietary to Zacks you must have a Zacks Premium account to access this watchlist. You can get a 30-day free trial from Zacks Investment Research by clicking the Zacks logo:

Zacks Breakouts White Paper
We completed our white paper on the new strategy this week and it includes detailed backtesting results and analysis including the optimum portfolio management parameters.
Apart from the exceptional profits that the strategy displayed in backtesting, one the most interesting results was how quickly these stocks appreciate between the issuance of an alert and the next session's open. The backtest showed that by waiting for breakout confirmation and buying at the open you paid a premium of over 6%.