CE Zones, Strength Rankings and their Significance
When we introduced our new watchlist formats, we also introduced a new technical and fundamental strength ranking scheme. These were based on our CET and CEF metrics with the idea to convert both metrics to a 1-5 scale of strength with 5 being strongest. This seemed like a good idea at the time but it has also introduced some confusion that we would like to clear up.
First, let me explain the origin of the terms CET and CEF. When we started our site in 2001, we developed a tool we called the CANSLIM Evaluator (CE) which was designed to use the CAN SLIM® method to rate stocks on both technical (CET) and fundamental (CEF) strength. We found there were 7 points that could be earned for technical merit and 11 points that could be earned for fundamental strength so our CET score could range from 1 - 7 and our CEF score from 1 - 11. In 2007 we were forced to abandon the CANSLIM term and instead renamed the CE to CANTATA Evaluator standing for
C
urrent and
A
nnual
E
arnings,
T
echnical
A
nalysis and
T
iming
A
ssistance. This name change meant we could still use CET and CEF to refer to our technical and fundamental scoring scheme.
Recognizing that the scoring schemes were a little hard to grasp, from the beginning we introduced a scheme to convert the CET and CEF scores to zones as shown: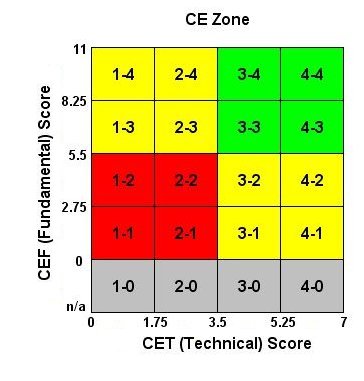 The zones under this scheme were labeled CET- CEF so a 4-4 zone was actually a CET >= 5.25 and a CEF >= 8.25. We still use the zone notation in our email alerts and performance reports. Note that where we don't have fundamental data for a stock it gets an "n/a" whereas we always have technical data for a stock. Hence we never have 0-n zones but we do have 1-n zones.
When we introduced the new watchlist format we converted our zones to new technical and fundamental strength scales from 1-5. The equivalence to the zone notation is shown here: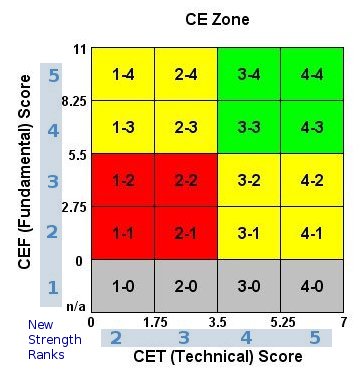 How should you use these Zones?
It may come as a surprise to CANSLIM followers to learn that fundamental strength is not an important factor in determining performance after breakout. Here is an analysis of how well breakouts from our cup-with-handle watchlist (the best performing watchlist overall) performed since January 2008. This analysis is taken from our published performance data under the Monitor > Performance menu choice.
Breakouts Gaining at Least 5% since January 2008
Zone
No. of Breakouts
Avg. % Gain
% of Breakouts
3-3
34
33.0
6%
4-3
360
27.6
60%
4-0
24
23.7
4%
4-4
34
23.4
6%
4-2
127
22.2
21%
3-2
16
19.7
3%
4-1
6
14.0
1%
As you can see, zone 4-4, the zone with strongest fundamental strength, produced only 4% of all successful breakouts (defined as breakouts gaining over 5% after breakout). Note that the best gains was from zone 3-3 but this accounted for only 6% of successful breakouts.

What we suggest, therefore, is that you focus on alerts for breakouts with a zone of 4-3 and 4-2 which will select 81% of successful breakouts.