Three weeks ago, I analyzed the performance of the NASDAQ Composite against our Bollinger Band chart
*
(see
Newsletter 10/16/09
). I cautioned that the index was in correction and opening any new positions should be avoided until the index had recovered above its 50 day moving average. In that article I drew attention to the pattern that had emerged since March wherein the NASDAQ rebounds quite quickly from the lower band and then resumes an upward leg that can be several weeks long before consolidation begins again.
This chart shows that the rebound from the lower band has begun and the index has also moved above the 50 dma. If the previous pattern repeats itself then we could see a gain of around 100 points (5%) in the index from here.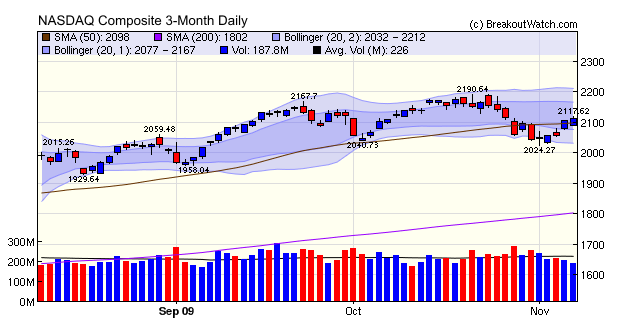 Although a short term gain in the index seems likely, we need some volume before we can expect any quantity of breakout candidates. Even though the index has risen quite strongly in three out of the last four sessions, volume has been noticeably weak, as the chart shows.
The decline in volume has greatly reduced the number of breakout candidates with just four breakout attempts being successful this week. Two of these were highly successful: DEER broke out from a High Tight Flag to make an intraday gain of 22.7% although profit taking reduced the gain to 8.6% by Friday's Close; ECPG broke out from a cup-with-handle base to gain 13.5% by Friday's close. ECPG first appeared on our watchlists this year as a high tight flag on May 19, although it never met our breakout criteria (handle became too long). Since March 9, this stock has gained 576%!
Why is volume so low? We can't be sure but the implication is that institutions, which have the most power to move the markets are not engaged. In turn, institutions, particularly mutual funds and ETF's, get their funds from private investors, but we know that there is around
$3.5 trillion in cash sitting on the sidelines
. When the private investor finally gains confidence in the recovery, we can expect the bull market to return in earnest.
*
Our BB charts are slightly unusual in that we show both the 1 and 2 standard deviation bands.