The markets showed excessive exuberance this week as earnings season got underway, so a sharp reaction following the announcement of the SEC's civil suit for fraud against Goldman Sachs, disappointing earnings from Google and lower than expected consumer confidence, is not surprising. We showed last week that the NASDAQ Composite was hitting a resistance level and a correction was due. The index comfortably broke through resistance with three successive accumulation days at the beginning of the week but has now reverted to the point where former resistance may become support.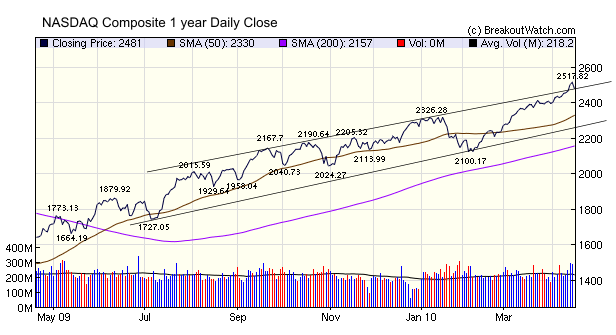 Volume levels for the large cap stocks rose almost to panic levels on Friday but the NASDAQ, although dipping 1.4%, avoided a distribution day. The overall outlook for technology stocks looks healthy so while we may see some continued selling on Monday, we may see the NASDAQ weather the storm in better shape than the broader markets.
The question for the financial sector is will the prosecutions stop with this one instance or are there other shoes to drop? Its unlikely that GS was the only firm indulging in the behavior cited by the SEC, so other law suits could follow. The SEC is presumably eager to show its teeth after the Madoff scandal, and it would certainly be in the political interests of the administration to pursue more action given public anger at Wall Street and the Republican's opposition to financial reform. If more prosecutions emerge then financial stocks will fall further. We saw in the case of Lehman Brothers and Bear Stearns how quickly things can go bad once confidence is lost so we could be in for another rough ride.
On the other hand, it is not in the Administration's interest to provoke another collapse of the markets as the recovery teeters along.
Bottom line? Its anyone's guess where we go from here.
As an aside, as I usually try to avoid politics, I'm reminded that when LTCM was on the verge of collapse, Greenspan rounded up 20 or so of the major financial institutions and persuaded them to put up capital so LTCM could be wound down in an orderly way and a financial panic was avoided. It seems to me that that is the nature of what is proposed in the current financial legislation which asks for the major institutions to buy into a fund that will be used for the orderly wind-up of an institution that poses a systemic risk. Attempts to label this proposal as perpetuating too big to fail reeks of political grandstanding without regard for the health of the country. If it was OK for Greenspan then, and demonstrably worked, why isn't it good for this Administration also?
Welcome to New Subscribers
The move up earlier this week brought us several new subscribers, so we would like to welcome you to our site. For your benefit, we are repeating some advice given earlier this year in our 'Top Tip' of the week.