The markets made their best weekly gains in over a year as traders anticipate a strong 2nd quarter earnings season when compared to the same quarter last year. We deliberately used the term 'traders' not investors because 'investors' seem less enthusiastic as world wide withdrawals from mutual funds topped $11 billion and inflows into money market funds were the biggest in 18 months. (Source :
Reuters
)
Investors Business Daily is stating that the indexes are in a confirmed up-trend. It would seem that they are basing this on the recovery from the day's low on July 1 and then calling a follow-through day on July 7. Although they may be subsequently proved correct if the rebound is sustained, we think their reasoning is suspect as a look at the equivolume chart* for the DJI shows.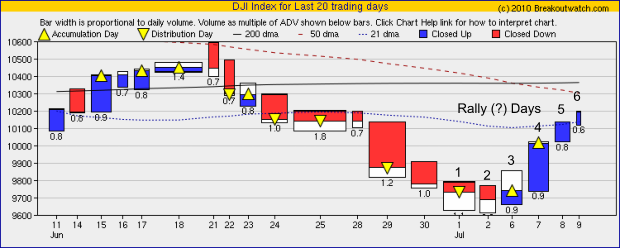 Day 1 of their rally was actually a distribution day. Although we grant that the majority of the volume may have come in the recovery phase, the distribution continued on day 2 and undercut the previous day's low both in the low of the day and at the close. In fact, July 2 should count as day 1 of the rally, in which case a follow through day (a gain of at least 2% beginning on the fourth day) has not yet occurred. However, How to Make Money in Stocks, does allow an exception of a follow-through day on the third day of a rally if the first, second and third days are very powerful. Even granting that we are in a short week with depressed volume, volumes were not impressive and only the move up on the 7th July could be classed as powerful.
Identical arguments can be made for the NASDAQ equivolume chart.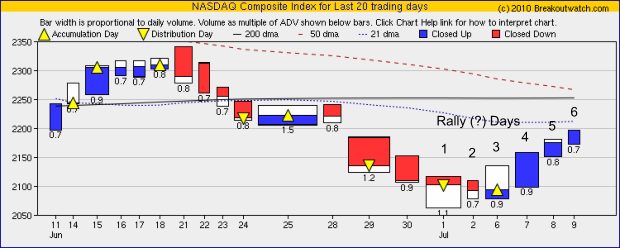 We suspect that a confirmed up trend sells more newspapers and investors.com subscriptions than a down trend :).
Finally, a look at the NASDAQ daily chart shows that three rally attempts since April have failed so it is too early to become excited over the latest one as there have been no game changing events to suggest that things are different, this time. In fact, American's are cutting back on their credit card debt and increasing their savings. While good for investment in the long term, this will not lead to a consumer led recovery in the near term.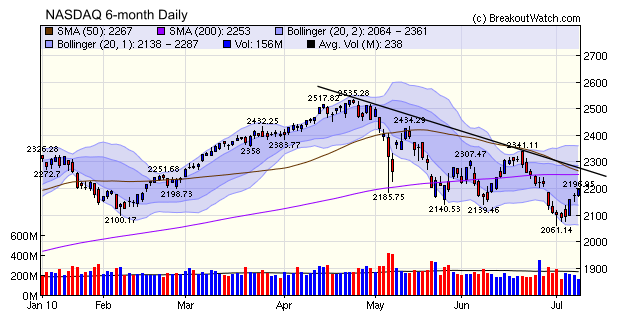 * An equivolume chart denotes volume by the width of bar. We also display the volume compared to the 50 day average below the bar.