I hope you are all enjoying a safe and restful Thanksgiving weekend. I certainly am so the newsletter is fairly short today.
The NASDAQ Composite is in a symmetrical triangle pattern. This means that the resistance line is descending while the support line is rising, at approximately equal rates. The probable outcomes from this pattern are equally weighted to the upside and downside, so we must wait for a breakout above the resistance trend or below the support trend on heavy volume before we can know the outcome. That said, I think the probabilities are that we will continue to move higher consistent with our trend model, and the rising 50 and 200 day moving averages. Also, the NASDAQ Composite and Russell 2000, from where the majority of successful breakouts come, are not weighed down by banking stocks and other large cap companies that will suffer from a downturn in the global outlook. This is evident in the NASDAQ and Russell 2000 being positive for the week while the larger cap indexes went south. All bets are off, however, if there's a flare up on the Korean Peninsular or Portugal and then Spain require a bailout.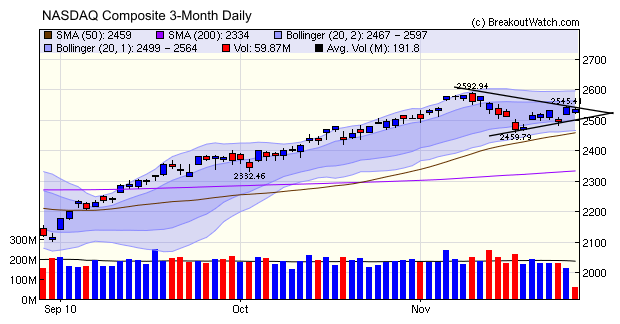 On the domestic front, though, things are looking brighter. Third quarter GDP was revised upwards to 2.5% annual from 2.0% (its still anemic but the trend is in the right direction), new jobless claims fell sharply,
consumers earned more, spent more, and saved more in October and consumer confidence is improving. Unfortunately, the housing market is still deteriorating and durable goods orders also declined.
Thanksgiving Special
50% Discount on 12 Month Gold and Platinum Subscriptions
Until Midnight, EST Sunday, November 28 Only
Subscribe, renew, extend or upgrade your subscription for 12 months
and get a 50% discount on the monthly price
To take advantage of this offer, log into your account between Thursday and Sunday of next week and choose to upgrade or renew for 12 months at the Gold or Silver level. You will be charged $350 for a Gold subscription or $600 for a Platinum subscription. The usual rates are $560 and $950 respectively.
Don't have a subscription yet? Subscribe for a Trial and then take out a 12 month Gold or Platinum subscription and you will receive the same great deal.