This week we respond to two questions from subscribers.
Zacks Strategy Backtest
A subscriber noted that the performance given in the backtest when run from 2004 to the present was hardly a recommendation for the strategy. The results are shown in this chart from which you can see that performance was very good before the crash and then performed poorly after the March 2009 recovery until mid-2010. We were always puzzled about why it performed poorly even after the recovery had begun but never found a satisfactory explanation.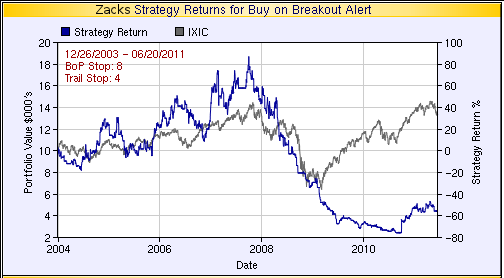 Over the last year, however, the strategy has performed exceptionally well as the next chart and table show. The strategy resulted in a 73% gain while the NASDAQ Composite gained only 18%.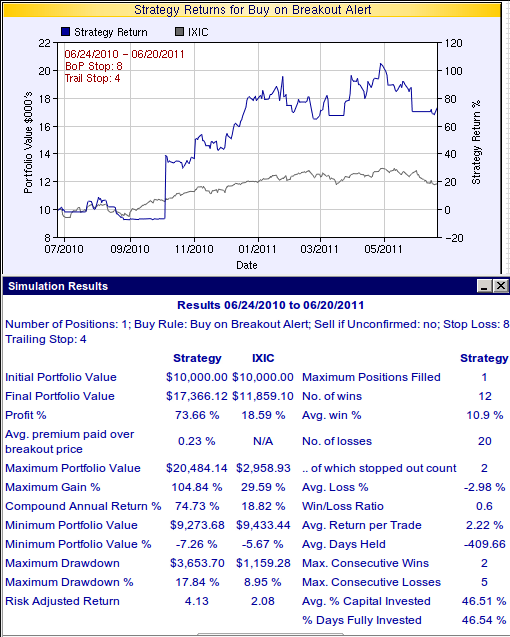 Our Zacks selections are available on our Zacks Strong Buy watchlist. You will need to supply a Zack's login to access them, but a free, no obligation, 30 day trial is available by clicking the Zacks logo here:
Head and Shoulders Breakdown Success Rate
Another subscriber asked if our head and shoulders top (HST) pattern gave a 93% success rate as quoted by Bulkowski in his Encyclopedia of Chart Patterns (Wiley, 2000) and referred to in our strategy notes for this pattern.
We had never tested this so I performed an analysis of all the HST confirmed breakdowns (2606) since we introduced this pattern in July, 2006. I selected all the confirmed breakdowns and looked at whether or not they closed below their breakdown price in the next 20 trading sessions. I then tabulated how many remained below their breakdown price for each day and the average profit a short sale would have made for those days. You can see from the chart below that on the first day after breakout, 74% remained below their breakdown price, so to avoid a loss you would have needed to cover 26% of the breakdowns on the first day. At the end of the 20 sessions, just 43 % were still below their breakdown price, or 57% had pulled back to at least their BD price. Compare this with Bulkowski's finding that 45% pulled back.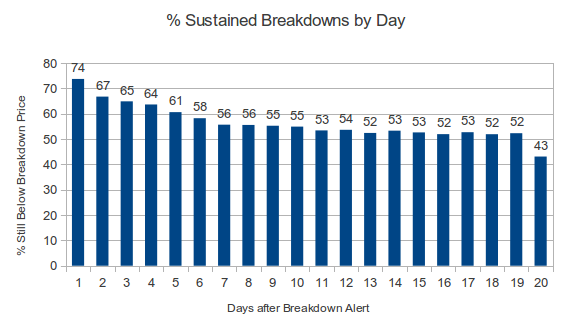 I also looked at the % average profit that was made each day based on the close that day for those that were below their breakdown price.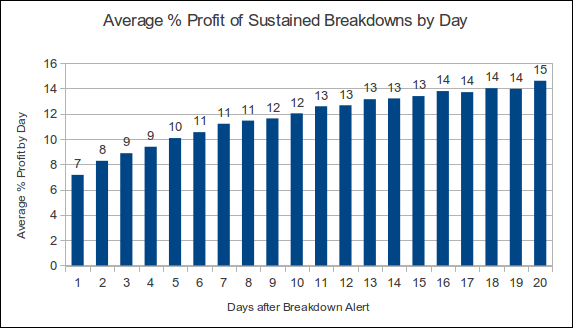 To interpret the meaning of this chart, lets assume that you were lucky enough to cover the 26% of stocks that rose back to or above their breakdown price at the breakdown price giving you zero profit or loss. Then if you closed all 73% of positions below their BD price at the close on day one, you would make an average of 7%. If you closed all 67% of positions below their BD price on day 2 you would make 8%, and so on.
This tells us that the expected profit if we were able to cover each position at the best possible price for a maximum hold period of 20 sessions is 11.5%. This again is quite different from Bulkowski's finding of an average decline of 23%.
These findings are clearly significantly different from Bulkowski's but consider that our sample of 2606 is considerably bigger than his sample of 461 and our time period 7/2006 - 6/2011 is very different from his: mid 1991 to mid 1996. Also our algorithms, each conceived independently, for recognizing the HST pattern would also necessarily be very different.
My conclusion is that the HST pattern can be highly profitable as it is successful, giving at least a 7% profit, in 74% of trades.