Stock Timeliness Checkup Tool Drawdown Calculation
The maximum drawdown is now calculated when you run either a long or short position. The maximum drawdown is measured from the point where you open a position to the lowest subsequent intra-day low, for long positions, or the highest intraday high for short positions, before the position is closed.
The display now shows the maximum drawdown out of all positions taken over the backtest period, and the date it occurred. Here are the results for going short on BAC:

To illustrate how the drawdown is calculated, have a look at this chart. The position was opened on 8/19/08 at $28.96 and not closed, using the DJI trend as a reference, until 2/4/09 at $5.47. However, before the position was closed the price rose to an intra-day high of $39.5 on 9/19/08 giving you a loss, if you closed the position at that price of 36%. That was the maximum drawdown of the 14 positions opened and closed over the backtest period.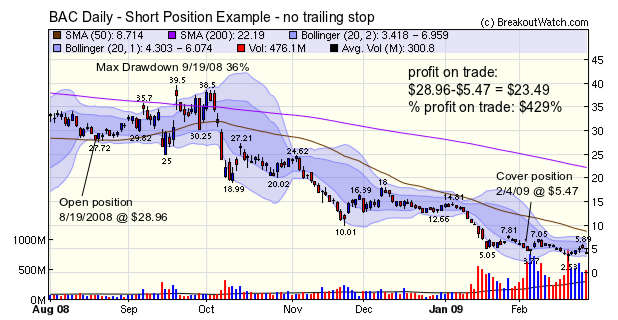 The tool allows you to test trailing stop levels. In the example above, no trailing stop was used, but if a trailing stop of 10% were used on this same trade, then you would have covered on 8/28/08 for a loss of $2.03 or 6.1%.
In the example above, you would have had income of $28.96 when you opened the position and then paid out $5.47 when you closed the position. Your net profit therefore was $23.49 for an outlay of $5.47 - a handsome profit of 429%! You would have had to have great confidence in our trend signals though, and possibly nerves of steel!
Note: none of these calculations allow for broker fees or slippage.