Only a brief newsletter this week as we are traveling to Lanai this afternoon (Friday) so my son can compete in a triathlon.
In ten years of operating breakoutwatch.com, we have never seen so many confirmed breakouts (88) in one week! This comes after what Bloomberg News descibed as the biggest monthly rally on record.
After meeting resistance at the 200 day level earlier in the week, the NASDAQ Composite rose above that level on Thursday and continued to close above it on Friday although there was a slight loss on the day.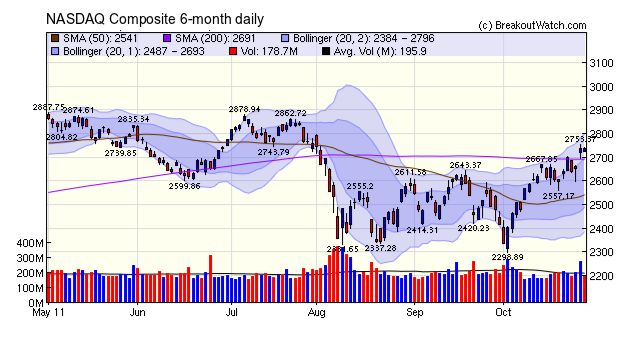 The markets surged on Thursday but there are question marks over the reason for the rally. While popular opinion attributes gains to the outcome of the European summit there are real questions over what was actually achieved as we are still waiting for these promises to be backed by actual financial transactions. Certainly the bond markets were not convinced as yields in Spanish and Italian debt rose on Friday. Over at
Political Calculations
they draw attention to the fact that the markets were rising throughout October despite the European uncertainty and
comments
at the Big Picture draw attention to the end of October being the end of the fiscal year for many mutual funds. All this leaves us very uncertain about the future direction, while
Barry Ritholz
thinks we are good for a year end rally:
Year end rally
: I have mentioned
seasonality
several times over the
past week
, and this rally seems to be running (or perhaps front running) into the best 6 months of the year. This does not mean the
secular bear market
is over, but it could very well clear us for a few weeks as we "
melt up
".